Uruguayans celebrated National Voluntary Blood Donor Day
Global Embassy of Activists for Peace
Uruguayans celebrated National Voluntary Blood Donor Day
In the Eastern Republic of Uruguay, since 1992, National Voluntary Blood Donor Day has been celebrated on November 12, in honor of the fiftieth anniversary of the creation of the blood banks of the Medicine Faculty of the University of the Republic and the Public Health Ministry.
The Global Embassy of Activists for Peace (GEAP) through the Integral Program: Life is in the Blood, joined the festivity that was carried out in Artigas Folleteria. 
The marathon was under the coordination of the Blood Bank of the Public Health Ministry. This institution made known why is it important to donate blood and explained that one person by making this step can save the lives of four people who need a blood transfusion, red blood cells, platelets or plasma.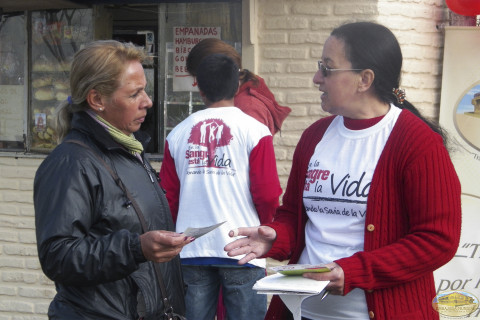 Persona aprendiendo sobre la donación de sangre

Citizen solidarity
The Activists for Peace promoted with brochures and banners the 8th International Blood Drive Marathon that the GEAP sponsors. The citizens were invited to the campaigns which contribute with the assurance of the blood in the health centers.
Venancio Riani, technical director of the Blood Banks of the department, thanked the volunteers of the GEAP for the support to the work which increased 100% of the effective donations in comparison with previous years.
The GEAP in Uruguay continues to promote the voluntary, altruist and regular safe blood donation, they also foment the principle of love and the positive values of the human being.
Details
Date:
access_time Saturday, November 12, 2016