Municipal Government of Acapulco establishes agreement with the GEAP
Global Embassy of Activists for Peace
Municipal Government of Acapulco establishes agreement with the GEAP
The Municipal Government of Acapulco, in their office, met the members of the Global Embassy of Activists for Peace (GEAP) in Mexico, with the purpose of signing a collaboration agreement to work for the peace of society and the environment.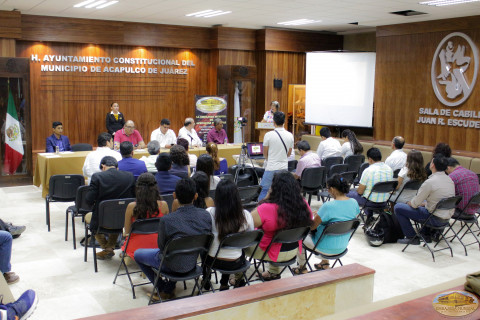 Attendees sign an agreement between the GEAP and the Juveniles "Mexico Stand Up and Shine" and "I Believe".
The GEAP informed the executives in charge of the area of ​​health, safety, ecology, education, youth and the municipality, the programs that it develops in the national and international scope to promote the formation of the integral human being.
The meeting was attended by Felipe Sánchez, undersecretary general of political, social and religious affairs; Gloria Sierra, municipal councilor; and Eger Gálvez, director of Health of the municipality.
The national coordinator of the GEAP, Francisco Guerra; Elías García, coordinator in Acapulco; and Caleb García for the local Youth Movement, also attended.
Institutional works
Felipe Sánchez, during his dissertation, recognized the work done by the GEAP in the city of Acapulco in favor of the human family and Mother Earth.
On the other hand, Francisco Guerra, national coordinator of the GEAP, spoke about the objectives and lines of action of the projects and programs developed by the GEAP in the country.
The representatives of the GEAP explained that the institution has the support of volunteers, who work for the strengthening of universal principles and values, and the recognition of the dignity of the human being.
Signature of agreement​​​​​​​
To complete the activity, the A.C. Juveniles "Mexico Stand Up and Shine" and "I Believe", signed the collaboration agreement to work together with the Youth Movement of the GEAP.
Details
Date:
access_time Tuesday, August 15, 2017