A Cooperation Agreement for Peace
Global Embassy of Activists for Peace
A Cooperation Agreement for Peace
Activists for Peace will be taught in the subject of Human Rights.
The facilities of the Mexican Commission for Human Rights (Codhem) were the headquarters where the collaboration agreement between the Global Embassy of Activists for Peace (GEAP) and Codhem was signed on March 23, 2016.
The agreement between the institutions is the joint support of the projects and campaigns that are developed. On Codhem's part, it will support the GEAP with professionals in workshops, conferences, forums or seminars. Also, training for the Activists for Peace in Human Rights material.
At the signing were present: Baruch F. Delgado, president of the Commission of Human Rights of the state of Mexico; Maria del Rosario Mejia, teacher in Law, general secretary of Codhem; Mr. Rene Oscar Ortega Marín, General Director of Administration and Finance. Also, Mr. Miguel Cruz, first visitor; Ana Pozo, executive secretary; the director of the Legal and Advisory Unit, Jesus Flores; Jesus Estrada, technical secretary; and Dr. Francisco Guerra, national coordinator of GEAP.
The event was attended by Ms. Norma Trejo, vice-coordinator of GEAP; Ms. Hilda Martinez, National Secretary of GEAP; and Mr. Hector Garcia, Project Manager in the State of Mexico.
The Codhem, an autonomous public body whose mission is to promote the culture of human rights; its vision is to be recognized as a guarantor of the rights of people to achieve a better quality of life. (See: http://www.codhem.org.mx).
The mission of the GEAP is to work for peace, progress, well-being and happiness of the human family and Mother Earth, promoting the formation of the integral human being and Activists for World Peace, within the framework of universal values and principles for the defense of Human Rights and the Rights of Mother Earth.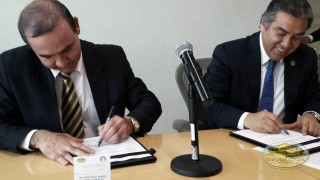 Details
Date:
access_time Wednesday, March 23, 2016