The 2017 blood drive transfusions began in Mexico
Global Embassy of Activists for Peace
The 2017 blood drive transfusions began in Mexico
The Global Embassy of Activists for Peace (GEAP) in Mexico began with the transfusions drives of the Integral Program: Life is in the Blood. The first drive was held in the Polivalente salon in Guadalupe, Nuevo Leon, with the support of the Centro Estatal de Transfusion.
The health campaign counted with the presence of Adrian de Hoyos, public health director of the region; Laura Lopez, local congresswomen; Alejandra Lara, Social Development Secretary; Beatriz Lee, director of the Blood Transfusion State Center; and Norma Trejo, national vice coordinator of the GEAP in Mexico.
Through the Integral Program: Life is in the Blood, the Activists for Peace in 2016 gave awareness speeches, where more than 43,508 people participated, and for 2017, the goal is much higher than that number in order to promote a culture of voluntary blood donation in the country.
Effective strategies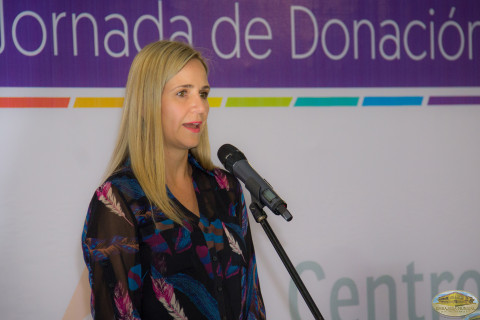 Adrian de Hoyos in his participation recognized the work of the GEAP because they help the community, and through different strategies, they promote habitual safe blood donation.
"We want blood donation to be habitual; when you start to think about the benefits you will have by just coming and giving a bit of your time, you lose your fear and you do it with love for someone else", said Hoyos.
For Alejandra Lara, health is the most important thing human beings have, and that is why she considers that the awareness lectures are necessary; thus the individual makes conscious decisions.
"What keeps us alive is the blood that runs through our veins; then, to be able to transmit the importance of altruistic donation unto the population, I believe, is of great value", stated Lara.
On her part, Laura Lopez said that peace does not only come by the lack of war, the lack of conflict; peace is to reinforce the social tissue, peace is to extend your hand to your neighbor.
"This event of the Global Embassy of Activists for Peace is very important, because peace can save a life; and this is what this event is about, saving lives; and I am very pleased that the Global Embassy of Activists for Peace is here", said Lopez.
Norma Trejo, representative of the GEAP said:
"It is very important to work as a team with health institutions, to do a better work. In Mexico we are working to promote a culture of voluntary, altruistic and habitual safe blood donation through the Integral Program: Life is in the Blood and its strategic components."
Positive results
During the drive, 70 Activists for Peace were in charge of giving awareness speeches through the area where the event was held, with the aim of making known the benefits of being a voluntary and habitual blood donor; also, to add more Mexicans to this altruistic work.
100 people joined the call of the GEAP, where 72 citizens were attended, and as a result, 32 effective safe blood units were recollected.
Details
Date:
access_time Friday, January 13, 2017