Youths in Cidra receive teachings on the Holocaust
Global Embassy of Activists for Peace
Youths in Cidra receive teachings on the Holocaust
Educational Workshop - Educating to Remember
Humanism, compassion, integrity, right to education and the right to freedom were some of the concepts that volunteer activists from the GEAP shared with the students of the Ruth Evelyn Cruz Santos Vocational Superior SchooL, in Cidra, Puerto Rico.
During the "Educational Workshop - Educating to Remember" students learned about human rights and identified which of those rights were violated during the different stages of genocide, specifically the Holocaust, and also managed to classify the values that were absent during that dark period of mankind.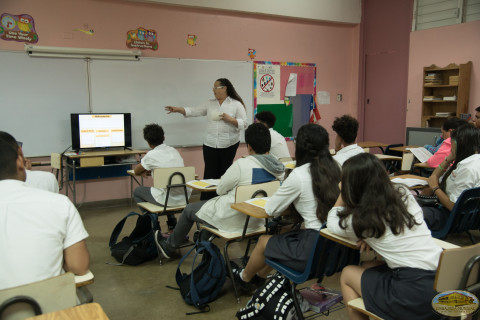 Students from ninth and tenth grade showed great interest in the subject of the Holocaust, and how intolerance and violence could reach that level of hatred. Some of the yourths had the courage to share a personal situation or experience where they felt that their human rights were violated.
More than 220 students and 3 teachers received the volunteer activists of the GEAP and welcomed the teachings of the educational workshop.
Details
Date:
access_time Thursday, April 26, 2018