Visit to the Supreme Court of Justice of Mexico
Global Embassy of Activists for Peace
Visit to the Supreme Court of Justice of Mexico
Within the framework of the Third International Judicial Forum "New Proposals for the Prevention and Punishment of the Crime of Genocide" developed at the Federal Judiciary Institute, Mexico City, on February 20, 2015, a special delegation, led by the Global Embassy of Activists for Peace at the head of its executive president, Dr. William Soto, and Gabriela Lara, general director, went on an official visit to the facilities of the Supreme Court of Justice of Mexico, invited by Dr. Luis María Aguilar Morales, president of this body.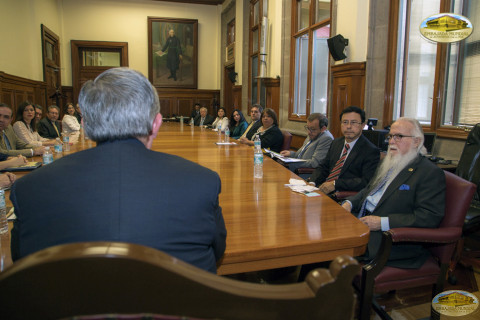 The Supreme Court of Justice of the Mexican Nation, functions as the maximum constitutional court and the cusp of the Judicial Power of the Federation; in this sense, it is responsible for safeguarding the constitutional and legal order of the United Mexican States.
Among the visitors were magistrates of high courts of Latin American countries, judges, prosecutors and attorneys, who shared the pleasant experience of being in Mexico to discuss, debate and reflect on a Justice for Peace.
The welcome remarks were in charge of the President of the Court, who thanked the cordial visit, stating:
"I consider it an elite luxury for Mexico to count with your presence, responding to the fundamental purpose of human rights."
At the end of the day, a guided tour of the building's facilities was given, in which the historical accounts that frame the emblematic venue were known.
Details
Date:
access_time Friday, February 20, 2015