Solidary work that guarantees blood supply
Global Embassy of Activists for Peace
Solidary work that guarantees blood supply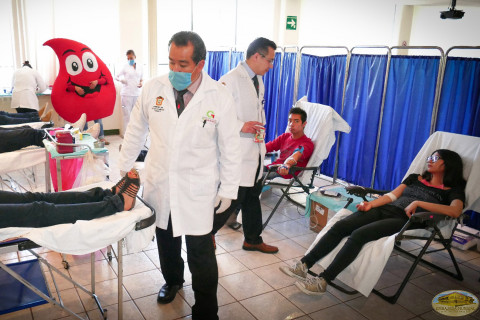 Under the framework of the 9th International Blood Drive Marathon "Life is in the Blood", which the Global Embassy of Activist for Peace (GEAP) develops, a blood drive marathon was held on March 30 at the Autonomous University in Mexico (UAEM) at the Zumpango Campus. 
This solidary work was carried out with the purpose of guarantying blood supply to the population, and to contribute in the formation of a voluntary and regular culture of blood donation.
The activity had the presence of Raymundo Ocaña, Director of the UAEM; Rogelio Guevara with the staff of the hospital blood bank and Samuel Garcia, from behalf of the GEAP.                                                                                                             
The university students, the medical team and the Activists for peace contributed in the marathon, which raised awareness in 800 students. Likewise, the students of the University of Zumpango donated the sap of life and expressed their gratitude to the GEAP for allowing them to become part of this humanitarian work. 
Marathons for integral happiness 
A similar activity was carried out in Coatzacoalcos, Veracruz, where the students of the Inter-American University for Development (UNID), supported the Integral Program: Life is in the Blood through a blood drive marathon, carried out on March 31.
Promoting love for life, peace and integral happiness, the GEAP developed the 1st blood drive marathon in the UNID achieving the awareness of 130 Veracruz students.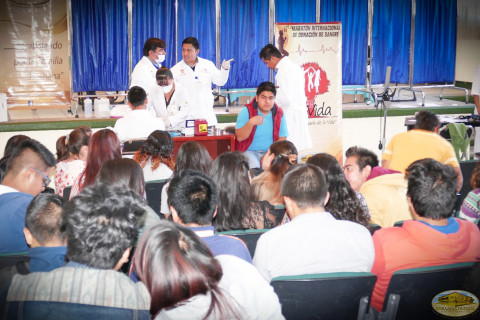 The Director of the Coatzacoalcos blood bank of, Maria Escobedo with her team, and the coordinator of the Communicational Educative Program for the formation of a voluntary, altruist and regular safe blood donation culture (PEC-VIDA), Mayra Santos and Activists attended all the blood donors.
Everyone can save lives
Through this health marathon the students recognized the importance of implementing PEC-VIDA to incorporate society in this solidary act which saves the lives of other people.
The GEAP in Mexico continues to develop awareness marathons in schools and communities in general, through this program which proposes a socio-cultural contribution based in the principle of love for life, the enhancing of the quality of life, social justice, peace and the integral happiness in the human family. 
Details
Date:
access_time Friday, March 31, 2017