"Life is in the Blood" encourages a culture of voluntary donation in Ciudad Juárez
Global Embassy of Activists for Peace
"Life is in the Blood" encourages a culture of voluntary donation in Ciudad Juárez
The GEAP worked together with the Regional Blood Bank
The Integral Program "Life is in the Blood", promoted by the Global Embassy of Activists for Peace (GEAP), developed in Ciudad Juárez, Mexico, educational and awareness talks, such as blood donation marathons, focused on the creation of a voluntary, altruist and regular safe blood donation culture.
The Universidad Autónoma de Durango Campus Juárez and the Empresa Río Bravo Eléctricos9 S.A, were the organizations where it was carried out the activities from May 10 to the 12. The Regional Blood Bank provided support to the marathons, and was responsible for the extraction process.
"Life is in the Blood", implements two strategic components: The Communicational Educative Program (PEC VIDA), and the International Campaign: Blood Donations and Marathons.
College students and workers of the company shared their doubts regarding blood donations. During the talks they understood that donating blood doesn't make you gain weight, nor does it generate anemia or sexual impotence, and in normal conditions it doesn't provoke fainting or other symptoms.
Likewise, they learned the transcendental importance of this solidary act and the benefits obtained for the donor and who obtains the donation. After the talks, Juarez residents proceeded to give their voluntary contribution of life.
Dr. William Soto Santiago, executive president of the GEAP and author of the program, considers that "Education is the most powerful weapon to transform minds", and that before blood donation occurs, educational talks were given to raise awareness and disprove the existent myths on society.
The integral program has been well received in Ciudad Juárez, an organization that has hosted major events, such as the First International Congress of Voluntary Donation during the month of March this year. (See International Congress of Voluntary Donation)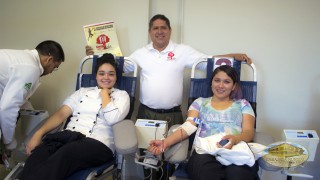 Details
Date:
access_time Thursday, August 25, 2016