National Judicial Forum: Promotes respect for human rights
Global Embassy of Activists for Peace
National Judicial Forum: Promotes respect for human rights
144 university students participated in the Forum "Human Rights and its implementation in Mexico", organized by EMAP in Quintana Roo.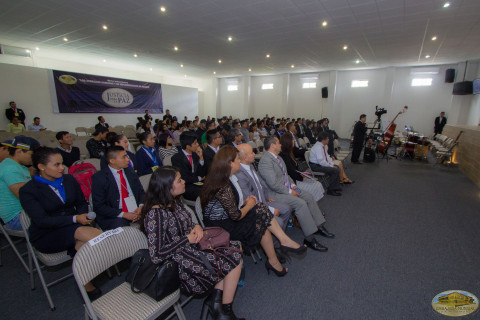 This educational meeting was carried out under the Justice for Peace Program with the aim of promoting respect for human dignity, presumption of innocence and human rights. One hundred forty-four university students, teachers and Activists for Peace attended the event.
The event counted with the participation of Nancy Pech, principal of the Universidad de Oriente, and Maria Frias, student from this house of studies; likewise, 144 university students, teachers, Activists for Peace and representatives from the GEAP.
Programs that drive change
Nancy Pech, was in charge of the opening of the event. In her welcoming remarks she said:
«As a humanist university that forms leaders of entrepreneurs, it is our duty to contribute to programs that promote and foster change in our country; such as Justice for Peace. I reiterate that the Universidad de Oriente has open doors for everything you need and in what we can support you,» said Pech.
For his part, the national coordinator of the GEAP, Francisco Guerra, invited the attendees to participate in strengthening a culture of peace and explained the work of the Justice for Peace Program.
Youth representative, Antonio Gutierrez from the GEAP, during his speech said:
«The basis of law is social relations, and it is up to us as citizens to carry them out and give them value.».
Maria Frias, a student at the Universidad de Oriente, commented:
«Es de suma importancia conocer los beneficios que tenemos; como son los derechos, las garantías, la dignidad; y saber lo que la ley nos da como protección y a su vez como limitantes».
Themes of interest
The development of the Forum covered two themes:
The Constitutional Reform of June 2011
The scope of the implementation of human rights in Mexico
Following the exhibits, principal Nancy Pech added:
«I am grateful to the GEAP for holding the Judicial Forum in this institution, hoping that the presentations will have been of benefit to the students.»
Finally, the speakers received an acknowledgment from the GEAP for their contribution to society. The closing statement of the Forum was then made.
Details
Date:
access_time Tuesday, March 21, 2017