Legislative Bill for a culture of voluntary blood donations in El Salvador
Global Embassy of Activists for Peace
Legislative Bill for a culture of voluntary blood donations in El Salvador
For a culture of voluntary, altruistic, and habitual safe blood donations in El Salvador, the GEAP presented a Legislative Bill.
In El Salvador, on September 13 at the Legislative Assembly, the Global Embassy of Activists for Peace, petitioned a legislative bill that declares the promotion of a culture of voluntary blood donations of national interest. 
The bill will be sponsored by Representative Rene Alfredo Portillo with the support of Rep. David Ernesto Reyes and Rep. Mauricio Vargas Valdez. 
The bill seeks to amend the current legislation in countries in need of strengthening their national systems which supply blood and its components, by replacing the current system of blood donation with a voluntary, altruistic, and habitual donation system. 
The Integral Program: Life is in the Blood proposes within the bill, immediate action, which contributes towards the goal of the World Health Organization for the year 2020, which is to have 100% effective blood units from voluntary, altruistic, and habitual blood donations. 
Education and Awareness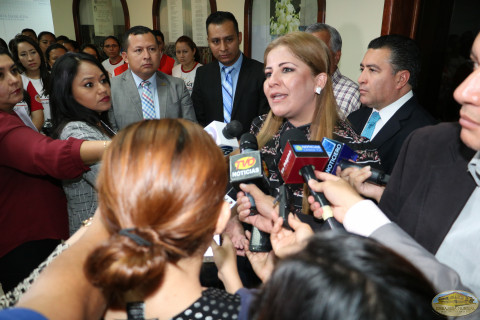 The bill, within its content, proposes to reach the ranks of national laws, as well as to contribute in education. Gabriela Lara, Director of the Global Embassy of Activists for Peace, made specific emphasis on this during a press conference:
«We consider that most importantly, this bill be considered of national interest and that the necessity of awareness among our children and our youth, from an educational standpoint, be raised.  We know that there are many laws now in existence, but the most important thing is that the individual, the citizen, be educated and aware so that the bill becomes a law. ».
According to the Pan-American Health Organization, Nicaragua is proof that it is possible to not pay and reach 100% voluntary blood donations, this being the focus of the GEAP and its project Life is in the Blood.  Through strength and effort, the peace of those in clinics and hospitals that are in need, and the tranquility of their family members, can be reached. 
Details
Date:
access_time Wednesday, September 13, 2017