Judicial forum promotes a culture of respect for human rights
Global Embassy of Activists for Peace
Judicial forum promotes a culture of respect for human rights
With the purpose of fostering a culture of respect for human rights in society, the Global Embassy of Activists for Peace (GEAP) in Mexico, through the Justice for Peace program held the National Judicial Forum: Human Dignity, presumption of innocence and human rights.
The activity was carried out in coordination with the Benemérita Autonomous University of Puebla (BUAP), through the Under-secretariat of Crime Prevention and Private Security.
It was attended by 200 people from the judicial field, prosecutors, government officials, lawyers, university rectors and law students from different educational institutions. The forum took place in the facilities of the José María Morelos y Pavón Auditorium, in the School of Law and Social Sciences of the BUAP.
Luis Ochoa, director of the School of Law and Social Sciences of the BUAP

Opening ceremony
The opening ceremony was in charge of Luis Ochoa, director of the Faculty of Law and Social Sciences of the BUAP and José Ávila, representative of the rector of the BUAP, José Esparza Ortiz.
The themes of the forum were:
"Proposal to effect the respect of human dignity and human rights of persons deprived of liberty and to solve prison overcrowding", exposed by Raquel Avendaño, head of the General Directorate of Human Rights of the General Secretariat of the State Government of Puebla.
"Comprehensive reparation under human rights standards", theme presented by María Calderón, attorney general of Legal Affairs and Human Rights of the Attorney General of the State of Puebla.
Respect the procedures
Armando López, legal counsel for the governor of the state of Puebla, based his presentation on the effectiveness of the Criminal Justice System in Mexico.
"Both victims and defendants have human rights that must be respected in the proceedings; the scope to repair the damage, the alternative means of resolving conflicts, the presumption of innocence, among others, must be veiled and activated by all of us," said López.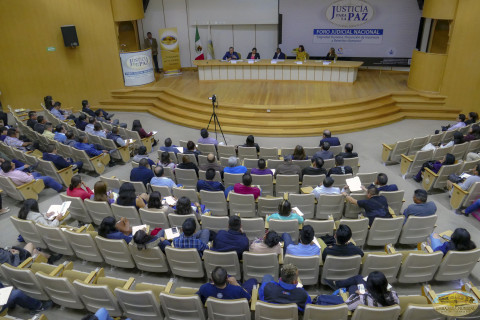 200 people from the judicial area attended

Francisco Guerra, national coordinator of the GEAP in Mexico, in his speech said: "From education we must be focusing the bases so that these achievements in our legislation perpetuate the length and breadth of the Mexican Republic."
Paulino Arellanes, a research professor at BUAP, spoke on "The democratization of the Security Council: Composition and exercise of the veto."
To close the cycle of exhibitions, María Osorio, head of the Specialized Court for Justice for Adolescents, developed her presentation under guidelines for reflection and constructive critical thinking on national procedural institutions and on how to adapt them to a minimum standard of respect for human rights. Fundamental.
Details
Date:
access_time Thursday, February 22, 2018