Judicial Forum: Human Rights their recognition and minimum guarantees
Global Embassy of Activists for Peace
Judicial Forum: Human Rights their recognition and minimum guarantees
The Global Embassy of Activists for Peace (GEAP) in Mexico, organized the judicial forum "Human Rights and its Implementation in Mexico" at the Administrative and Social Sciences Department, at the Valle Dorado Campus of the Autonomous University of Baja California (UABC) in Ensenada.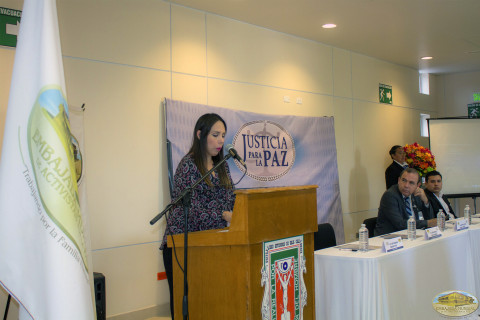 Chair of Commission spoke of human rights
As part of the Program Justice for Peace carried out by the GEAP, the forum was developed with the purpose of designing and implementing mechanisms with tangible solutions that transcend the national and international community in favor of a more humane, prompt and effective justice, in favor of the well-being, peace and happiness of the human family.
The event was attended by Melba Olvera, president of the State Commission of Human Rights in Baja California and Ruben Gomez, law student at the UABC.
Education for Peace
The forum began with the projection of an institutional video of the GEAP. Then, the speeches began with Francisco Guerra, national coordinator for the GEAP, who participated with the theme "Human Rights and its implementation in Mexico."
"It is the commitment of the states to recognize Human Rights to all persons without distinction of any kind and establish mechanisms to enforce those rights," said Guerra.
For his part, Ruben Gomez, law student at the UABC, addressed the theme "The Scope of the Implementation of Human Rights in Mexico, as of the June 2011 Reform."
Melba Olvera addressed the theme "History of Human Rights, its Evolution and Refinement; and the Current State in the Countries," spoke about the lack of implementation of these inalienable rights in the nation.
"Human rights must be understood in two ways, such as the minimum standards of quality that human beings require in order to live with dignity: What do you need in order to live with dignity? What does the Mexican people need in order to live with dignity?" explained Olvera.
The forum ended with the awarding of recognition by the GEAP to the speakers for their outstanding participation and contribution to the development and training of the integral human being.
Details
Date:
access_time Tuesday, May 2, 2017