Habitants of Poza Rica participate in blood drive
Global Embassy of Activists for Peace
Habitants of Poza Rica participate in blood drive
Under the Integral Program of Blood Donation: Life is in the Blood, the Global Embassy of Activists for Peace (GEAP) carried out a blood donation in the Regional Hospital of the Poza Rica, Veracruz, Mexico.
The program has as purpose to contribute in the formation of a voluntary, altruist and regular safe blood donation culture, to increase the active and efficient participation of the citizens, with the goal of guarantee the blood stock to everyone who requires it.
Citizen participation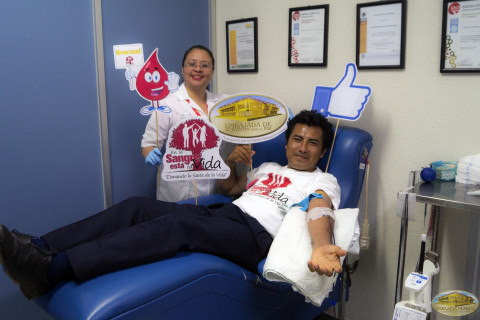 Doctor and activist in process of blood donation
Through the blood donations the volunteers of the GEAP have as purpose to add more citizens to this work which favors the reflection about individual and social values which are manifested by donating blood and saving lives.


The activity had 9 effective units of safe blood. As part of the campaign the activists shared information about the process of blood donation, the benefits and the importance of this altruist act.
Details
Date:
access_time Friday, March 24, 2017