Governor of San Luis Potosi-Mexico participates in Educational Workshop in Houston
Global Embassy of Activists for Peace
Governor of San Luis Potosi-Mexico participates in Educational Workshop in Houston
While making an official trip into to the United States, the Governor was invited to learn about the initiatives of the the Integral Program "Life is in the Blood"
The Global Embassy of Activists for Peace (GEAP) carried out an educational workshop of the Integral Program, "Life is in the Blood" in which the medical and administrative personnel of the blood bank, representatives of the General Consulate of Mexico, and Juan Manuel Carreras, governor of the Mexican state of San Luis Potosi along with his committee participated during a breakfast meeting at the Gulf Coast Regional Blood Center in Houston, Texas.
The Integral Program "Life is in the Blood" is an initiative and objective by Dr. William Soto Santiago which contributes to the formation of a voluntary culture of blood donation, altruistic and habitual of safe blood in society. The GEAP launched this program in the state of Texas at the office of the General Consulate of Mexico in Houston, and has extended to major cities in the states of Oklahoma, Nebraska, California, and other states of the American Union.
The event began with a tour of the facilities of the blood institute, and demonstrations by doctors showing the process a unit of blood goes through once donated by the donor, and the safe process it is handled with until it reaches its final consumer:  the patient who needs it.
The volunteers of the Global Embassy of Activists for Peace presented the Integral Program "Life is in the Blood", and it's objective and how the Embassy participates on days of blood drives along with the blood institute, teaching donors the importance of donating blood through face to face discussions, since it is the most common and effective way to reach genuine donors, creating a positive impact in the population which in turn reflects in records and results of an improvement of social welfare.
Mexican Consul General, Oscar Rodriguez Cabrera, emphasized on the work the GEAP has been caring out at the Consulate for over a year now on a monthly basis, presenting campaigns and educational talks of the awareness of blood donations and extending invitations to reflect on what can be achieved when you learn the value of life, altruism and love for others.
The Potosina delegation, headed by Juan Manuel Carreras, traveled to the "Special City" to seek business opportunities and initiatives in the health field and ways to establish economic opportunities with the diplomatic work that has opened up in his state while being developed with the United States.
For this reason, the governor expressed his desire to join forces with the Global Embassy of Activists for Peace through the blood donation campaign "Life is in the Blood," and added.
"If there is no coordination by the Global Embassy of Activists for Peace in San Luis, we will establish it, but I want to start working with you, and I would like to know more about the Global Embassy of Activists for Peace."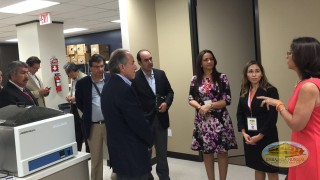 Details
Date:
access_time Thursday, June 30, 2016