The GEAP opens a collection center to support of refugees in Houston
Global Embassy of Activists for Peace
The GEAP opens a collection center to support of refugees in Houston
According to the National Hurricane Center (NHC) and the National Weather Service (NWS), Hurricane Harvey is an unprecedented natural disaster. In the face of the emergency, the Global Embassy of Activists for Peace (GEAP) opened a collection center in Springdale, RD, Austin, Texas, to support refugees in Houston.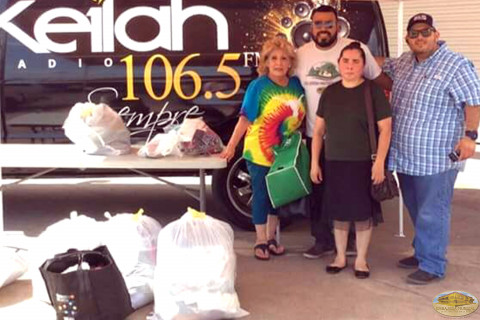 As part of the work, peace activists visited Keilah 106.5 FM radio with the purpose of inviting the community to participate in this social work. The volunteers established a period of three days for the collection of food, starting on August 30.
They also informed the community about a mobile unit that would cover different parts of the city to make their donations in favor of the families that are in the shelters.
In addition to the solidarity initiative, the GEAP also organized blood drives.
GEAP volunteers from Dallas, Waco, the Valley of Texas, El Paso, San Antonio, San Marcos, Oklahoma, Las Cruces and Nebraska, promoted blood collections and collected non-perishable food, first aid products, water, toilet paper, baby items, among others.
Solidarity with Houston
On September 2, peace activists planned a caravan to deliver the donations to the victims in Houston, the fourth most populous city in the United States, where the majority of the affected were located.
The GEAP joins the Navy, the United States Army, the Red Cross, Congresswoman Sheila Jackson and civil society institutions, in solidarity with all the people affected by the hurricane, which left considerable damage to the state of Texas.
Among the activities, a cleaning operation is planned.
Details
Date:
access_time Tuesday, October 31, 2017