Fabrica de Sonrisas opens their door to the Integral Program: Life is in the Blood
Global Embassy of Activists for Peace
Fabrica de Sonrisas opens their door to the Integral Program: Life is in the Blood
The Global Embassy of Activists for Peace (GEAP) in El Salvador, gave an awareness speech on the subject: "The donation of voluntary, altruistic and habitual safe blood donation", in the Youth Municipal Institute.
The activity counted with the assistance of 22 people among directors and leaders of the NGO Fabrica de Sonrisas. During the speech, the volunteers of the GEAP made known the importance of donating blood and the benefits that this altruistic act brings to society and to the donor.
The drive was developed under the Integral Program: Life is in the Blood; a project founded on the principle of love for life, that promotes solidarity, the respect for dignity, improvement of the quality of life, social justice, peace and integral happiness of the human family.
Greeted with smiles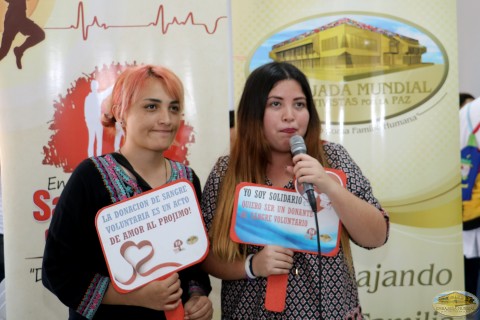 This first drive was held with the purpose of establishing an alliance with the institution and integrate the project with the 300 members that conform it. This meeting managed to set a lecture and a voluntary blood drive in the Psychoemotional Area of the NGO.
Volunteers for peace
Fabrica de Sonrisas was born in Guatemala in 2007, as an initiative of a group of friends that decided to contribute to the country. The Payaescuela is part of the project and consists in training new volunteers through training workshops, such as:
Globoflexia
Papyrus
Pintacaritas
Performance
Juggling
Puppets
This initiative has been operating for seven years in El Salvador, specifically in the departments of Santa Ana and San Salvador.
The Activists for Peace in El Salvador, through the Integral Program: Life is in the Blood, developed different strategies with the purpose of increasing citizen participation, to maintain the inventories of blood safe and stocked in the different health centers of the country.
Details
Date:
access_time Sunday, January 22, 2017