Dinner show benefiting the GEAP in Olavarría
Global Embassy of Activists for Peace
Dinner show benefiting the GEAP in Olavarría
To benefit the Global Embassy of Peace Activists (GEAP) in Argentina, volunteers organized a Dinner Show at the Mariano Moreno event hall in the city of Olavarría, where 200 people attended.
Among the special guests was the regional head of Hemotherapy at the Municipal Hospital Dr.Hector Cura, Laura Cardoso; by the Mapuche community "Pillan Manke", Mirta Millán and family; the national coordinator of GEAP, Guillermo Rodríguez; regional coordinators and Activists for Peace.
Julio Pérez opened the event with a screening of the GEAP institutional video, the profile of GEAP's executive president, William Soto Santiago, and documentaries that showed the work done by this institution at national and international level.
Exhibition of programs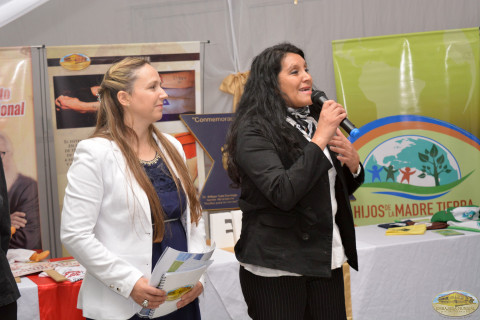 An information module presented the different programs developed by GEAP in Argentina; among them:
· Comprehensive program "In the Blood is Life - Donating the Sap of Life".

· Project "Traces for Remember".

· "Educating to Remember" Program.

· International Program "Children of Mother Earth".
The event was enlivened by voluntary musical groups of the country; among them "Los Entreveros", "Herederos", "La Alvarada", and the soloists Karina Betiga and Ignacio Montoya, who thanked the GEAP for the work they carry out in favor of the human family.
Merchant Support
This activity was carried out thanks to the business donations of the city; Likewise, GEAP received the financial support of Pamela AranaCanobey Verónica Zurita de Sosa, who was in charge of organizing the social event. (See list of event sponsors)
During the dinner, gifts were donated by the sponsors. The event was exempt from the municipal tax SADAI (tax on music) which corresponds to NGOs, as non-profit institutions.
Diffusion of the event
It is noteworthy that the media of the region supported the GEAP with the dissemination of the dinner show, both radio and written press:
· 93.7 Radio Sensación
· 107.1 Radio Moebius
· 98 Pop
· 103 Cadena
· 98.7AM 1160
· Radio Olavarría
· Diario El Popular
Details
Date:
access_time Sunday, September 4, 2016