A collaboration agreement was signed between the GEAP and the government of the state of Zacatecas, Mexico
Global Embassy of Activists for Peace
A collaboration agreement was signed between the GEAP and the government of the state of Zacatecas, Mexico
With the signing of a collaboration agreement, more efforts are added in benefit of the Mexican society.
Zacatecas, Zacatecas – Mexico. The Governors chamber at the Government Palace in Zacatecas, important and distinguished place because of its history in political power, was the location where the Global Embassy of Activists for Peace (GEAP), represented by its executive president, William Soto Santiago, and the Government of the state of Zacatecas, represented by Mrs. Fabiola Gilda Torres, general secretary of the government, signed a collaboration agreement on November 15, 2016.
With the commitment and devotion of the activists and society in general, certain works will be carried out towards the construction of a culture of peace.
The act took place before 120 people, among them, Francisco Gonzalez de la Cruz, Interstate President of the Wixarrica Union; Julio Cesar Chavez Padilla, secretary of Concertation and Citizen Association of the Government of Zacatecas; state and regional coordinators of the GEAP, and activists from the entire country.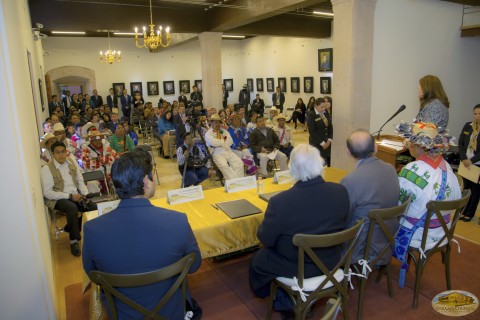 Mrs. Fabiola Gilda Torres, general secretary of the Government, in representation of the constitutional governor, Alejandro Tello Cristerna, extended the gratitude of the governor, expressing the interest that the Government has towards achieving peace:
"We are available to help, to cooperate, because the Government, as well as the civil society, has the responsibility of always looking for an improvement in the social peace within the family, within society, the educational sector. Thank you so much for your interest in Zacatecas, we are ready to support; and we hope that this is the first of many meetings here in Zacatecas, where you are always welcome."
In his intervention, William Soto indicated that it is important for the GEAP to find people that share the same ideals of peace that the institution projects, founded on the recognition and defense of human dignity, equal and inalienable rights for every member of the human family, and the rights of Mother Earth, in order to fight for the establishment of freedom, justice, and world peace.
"We know that by signing this agreement we are joining forces to work in an integral way for the Mexican society. During many years, it has represented for Latin America, a hotbed of big bulwarks in culture, music, theater, literature, among many others, and we believe that at the same time it can be an example for other nations to implement a culture of peace as a way of life in every sphere in which the human being interacts."
The national coordinator of the GEAP in Mexico, Francisco Guerra Gonzalez, insisted on the importance of involving every social actor, each within the scope of their competence, to be able to carry out action plans and works that can mark the path for the construction of a culture of peace.
The signing of the Agreement of Participation and Work in Every Program of the GEAP, was signed at the honor table with William Soto Santiago, Fabiola Torres, and Francisco Gonzalez de la Cruz, as honorary witnesses.  
Details
Date:
access_time Tuesday, November 15, 2016