Circle of the Word: Indigenous peoples meet in Santa Marta
Global Embassy of Activists for Peace
Circle of the Word: Indigenous peoples meet in Santa Marta
The Global Embassy of Activists for Peace (GEAP), in Santa Marta, held the Circle of the Word with the authorities and delegates of the indigenous peoples of the Caribbean Region of Colombia, to discuss issues related to identity and cultural integrity.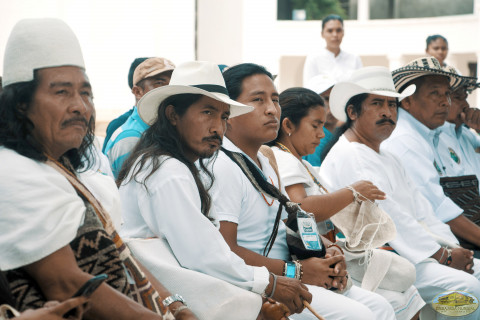 The event was held at the Quinta de San Pedro Alejandrino and counted with the participation of the indigenous peoples of Wiwa, Kogui, Kankuamo, Arhuaco, Yukpa, Wayuu, Zenu, Mokana, Emberakatios and Chinita, as well as the National Indigenous Organization of Colombia (ONIC).
The communities had a space to talk about the condition of their ethnicity and they gave their contributions to the proposal for the typification of cultural genocide, which it is considered to be implemented as a legal tool.
With the typification of cultural genocide, a measure of protection for the peoples is being created, which is supported by the indigenous community as a defense mechanism.
Criteria of good living
The head of the Mokana people, Julio Viloria, indicates that the basis of the culture of an indigenous people is their territory, where their customs are respected. He also said that together with his community he is willing to work for the benefit of all the native peoples of the country..
"The indigenous peoples of Colombia and America have sent a message to the world, because it is possible to develop the criteria of good living; to live in a harmonious way, balanced with the territory, with nature", said during his participation the ONIC's senior advisor, Luis Arias.
Legal tool – conclusion
During the Circle of the World, representatives of indigenous peoples enriched the proposal to typify cultural genocide. At the meeting the participants came to the following conclusion:
"We declare that we unanimously support this initiative, as long as it allows us to safeguard our identity and cultural integrity, and thus avoid our extermination as peoples".
The indigenous communities will request that the initiative be approved in the Congress of the Republic, so that this is a legal tool that guarantees its protection, preservation and its extermination.
Details
Date:
access_time Friday, June 30, 2017