Activists for peace gather at the 5th edition of Tree Week
Global Embassy of Activists for Peace
Activists for peace gather at the 5th edition of Tree Week
At the headquarters of the Argentine Federation of Municipalities (AFM), in the autonomous city of Buenos Aires, the 5th edition of Tree Week (SDA) was carried out, a campaign that was created in 2012 and unites more than 150 institutions of the country.
The SDA aims at increasing the participation of the community and sensitizing the citizens on the importance of the environment, health and the right to live in a sustainable habitat.
The event counted with the participation of representatives of various governmental and NP organizations, among them, congresswomen of the Buenos Aires legislature, Natalia Piersini, stated:
"I believe that tree week creates a point of encounter between man and nature."
A signature for Mother Earth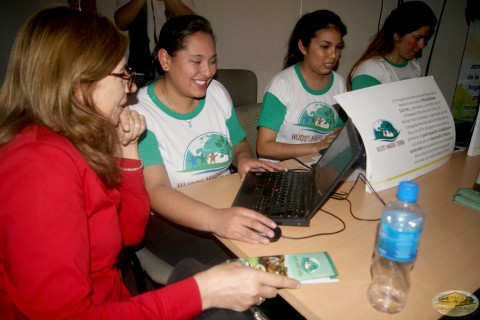 On her part, the president of the Argentina Network of Botanical Gardens, Ana Molida said:
"The scientific has to interact with the educational, to make known to man the importance of green spaces… the entire community must participate in these topics, we have no alternative."
The volunteers of the GEAP presented the campaign "I sign for Mother Earth" to the guests, which aims to recollect the signatures for a new Universal Declaration of the Rights of Mother Earth, where she is recognized as a living being, with rights.
Representatives from San Miguel, Berazategui, Tigre and General Alvear, correspondents from Buenos Aires and Cabalango (Cordoba), Gualeguaychu, Entre Rios and Catamarca, among others, participated with their signature.
Planting trees
To conclude, 3 trees were planted, among which the Tala (Celtis Tala) was found, a tree which was declared as emblematic in 2015; there was also a Ceibo and Jacaranda.
The Minister of Environment and Sustainable Development of the nation, Rabbi Sergio Bergman, in his speech, stated that the best wish for a person is what is said in Psalms 1: "The tree, is a tree of life, and it is a sign of blessing for all the people."
Bergman supported the new Universal Declaration of the Rights of Mother Earth with his electronic signature.
On September 8th, volunteers of the GEAP gathered in Ezeiza, El Grillo, to plant 100 trees, which were donated by the Water and Youth Movement in that area.
Details
Date:
access_time Thursday, September 8, 2016