The GEAP participates in sports and environmental activities for peace
Global Embassy of Activists for Peace
The GEAP participates in sports and environmental activities for peace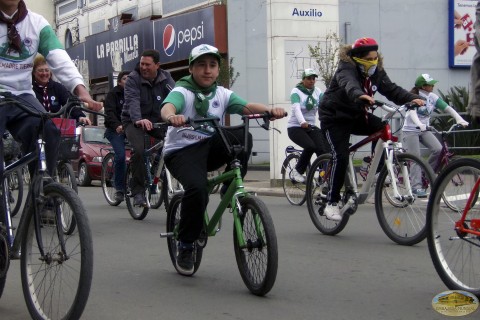 With the support of the Secretariat of Environmental Management, the Scout Group Tomás Santa Coloma No. 271, the Walking Branches Project and the Rovers of Tres Arroyos, a Family Bike ride and an Environmental Awareness Day was carried out, where the Global Embassy of Activists for Peace (GEAP) participated as a special guest.
The meeting, which was attended by more than 50 people, was held in the main square José de San Martín and was attended by the Secretary of Environmental Management, Ricardo D'Annunzio and the development Society Manos Unidas and Tres Arroyos Sustainable Mobility.
Sara Barile, GEAP regional coordinator, opened the event; in her dissertation she announced the work carried out by the GEAP through the International Program Children of Mother Earth, and also presented the 5R's stand that was installed in the square.
Sports and environment
The route taken by the cyclists culminated in the district of Chacra de López's square, where an Eco Exchange was carried out (ecological bags, in exchange for plastic covers, batteries, tetrabrik, cardboard, among other recyclable materials).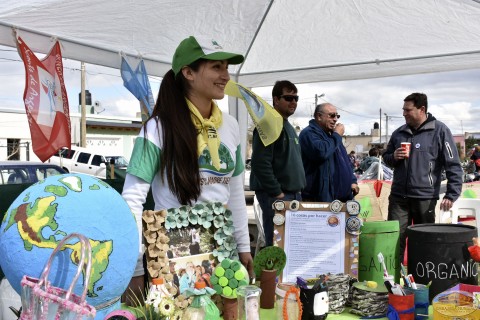 The representative of Tres Arroyos Sustainable Mobility, Emilce Leone, emphasized the importance of combining efforts in favor of Mother Earth. For his part, Héctor Cabrera, president of the Development Society Manos Unidas, highlighted the work carried out by the GEAP.
The organizers of the event expressed that the activity was a success, they also stated that they managed to spend some time in the company of family, friends and community neighbors; in addition, united, they all carried out actions in favor of Mother Earth.
Projects that benefit
Ricardo D'Annunzio, Secretary of Environmental Management, highlighted during his participation the work carried out by the GEAP in the municipality:
"The GEAP has shown commitment and enthusiasm every time actions are taken in this direction, and new projects will surely continue to be shared."
D'Annunzio, on behalf of the municipality, delivered bags and trees, which were planted during the event at the José de San Martín Plaza.
The GEAP cordially invited all the residents of the area to attend the Peña Folclórica, where the event A night of songs for peace with Ramón Ferretti, would take place.
Details
Date:
access_time Saturday, September 3, 2016