Debbie Rodella | Inclusive public policies that promote the well-being of the human being in harmony with the Sustainable Development Goals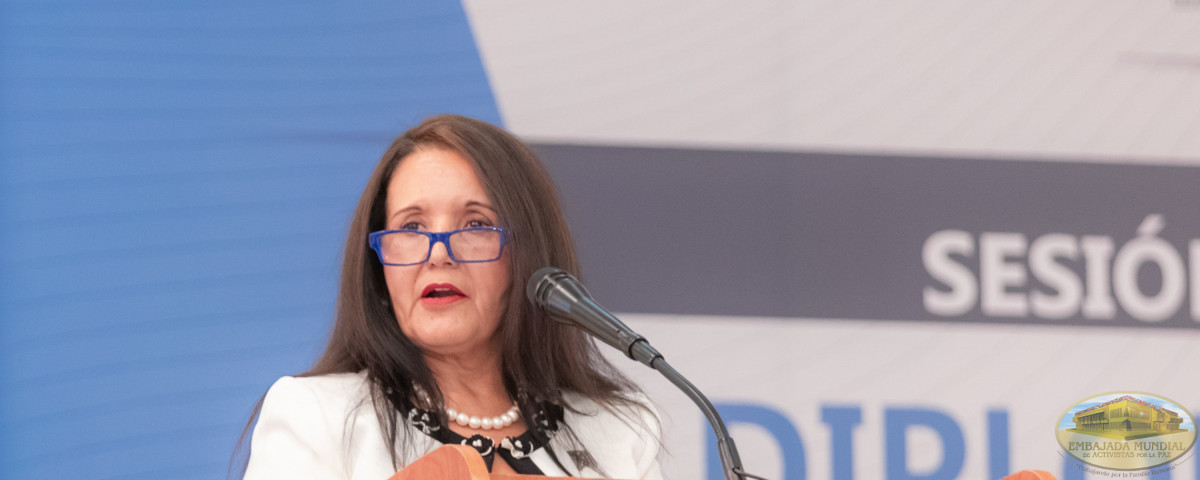 Thanks, Tommy. Good afternoon, are you all awake? After lunch ... Thank you, very good. Before starting my lecture, I would like to share something very important. This morning when we heard Senator Alarcó's speech, he mentioned some very important words, he said: "Collaborate to achieve", and I want to share evidence of that, something that happened this year. (And I'll switch to English now).
In February 2018, as a result of last year's Cumbre in Panama, through the collaboration with our coordinator, Enrique Garcia (who is here), and Dr. Jennifer Gomez Chavez who's also here, my dear friend. I successfully sponsored and passed House Memorial 95 in the New Mexico House of Representatives. I brought a copy of it with me today and I'd like to share that with all of you.
The House of Representatives of the State of New Mexico, 53rd legislature, Second Session 2018, House Memorial 95 introduced by representative Debbie Rodella: Recognizes the partnership of the Global Embassy of Activists for Peace, the University of New Mexico Division of Student Affairs, The Unidos Project and Learning Alliance of New Mexico to develop the first International Alliance of Universities for Peace in the United States.
Whereas, the Global Embassy of Activists for Peace works with universities across the world to develop programs and services to promote peace through the International Alliance of Universities for Peace. And whereas, the University of New Mexico is recognized in the United States as a research university that serves Hispanics and its mission is to train professionals in the different branches of knowledge and practice.
And whereas, the Global Embassy of Activists for Peace and the University of New Mexico have joined in partnership to develop the first International Alliance of Universities for Peace in the United States.
And whereas, the Global Embassy of Activists for Peace, the University of New Mexico Division of Student Affairs, the Unidos Project and Learning Alliance New Mexico, have agreed to begin planning stages to establish a partnership model to be formalized in the summer of 2018.
Now there are four ** result by the House of Representatives of the State of New Mexico, that the partnership of the Global Embassy of Activists for Peace, the University of New Mexico Division of Student Affairs, the Unidos Project and Learning Alliance New Mexico, be recognized for the development of the first International Alliance of Universities for Peace in the United States; and be of further resolved* the copies of this memorial be transmitted to the Executive President of the Global Embassy of Activists for Peace, the president of the University of New Mexico, a representative of the Unidos Project and the executive director of Learning Alliance New Mexico. So here's proof of what can happen when we collaborate and we work together.
Thank you for inviting me to speak here today at the fourth annual meeting of the CUMIPAZ - Peace Integration Summit. It is truly an honor to be invited to speak to so many people from around the world who share a passion for the preservation of Mother Earth, human dignity and all life.
As was stated my name is Debbie Rodella and I am a state representative from the beautiful state of New Mexico in the United States, serving District 41, in the northern part of the state. I'm from Española, a small town in northern New Mexico, and I represent Española and many other rural communities. (I want to show some pretty pictures of New Mexico). And many other rural communities in the surrounding area. I have been serving in the state legislature since 1993 and public service has been a part of my life since long before that. Representing my constituents, friends and family in northern New Mexico for the last 26 years has been a rewarding and worthwhile experience. I feel immense gratitude, I am thankful for the time I have served, the incredible people I have had the opportunity to work with and the impact that my colleagues and I have had on this date in our communities. In this moment I am thankful too for the chance to share with you some of the lessons I have learned along the way.
First, I want to tell you a bit more about my home: New Mexico, the land of enchantment, la tierra del encanto, which is located in the southwestern United States, bordered by the states of Texas, Arizona, Colorado and Utah, and by Mexico to the south. And sharing a border with Mexico, I would like to emphasize that many New Mexicans viewed New Mexico as a neighbor, ally and trade partner, and do not agree with the current presidential administrations proposal to waste billions of dollars on the construction of a wall to separate us from our neighbors. We should not be demonizing our fellow humans, instead we should be collaborating to find solutions to our immigration policy and other world issues.
Unfortunately, a wall between the United States and Mexico is a federal issue and for the most part, out of the hands of the state legislature where serve; in New Mexico our population is just over two million people, which makes us a relatively small state people wise. However, at over 121,500 sq. mi. we are the fifth largest state in the United States. We have a thriving agricultural industry in which we recognize the important role that immigrants have played and continue to play. We are well known for our staple crops, such as pecans and green chili, and New Mexico is a place where you get to say 'Christmas' every day of the year when choosing both red and green chili to smother your enchiladas.
The state's legislature meets every year in Santa Fe, which is one of the oldest capital cities in the nation, and at an altitude of 7,000 ft., the highest state capital in the country. The historic plaza, the Burning of Zozobra, the Albuquerque International Balloon Fiesta and many other sites and events spring tourists from around the world. In Santa Fe, this time of year in particular, brings a sense of connection. The air is finally cooling, the leaves of the aspen trees are showing off their beautiful hues of orange and yellow, and in a few months the whole town and most of the state will be a glow with farolitos. It is a time of fiestas and football, Native American feast days, and autumn tramway rides over the Sandia Mountains. It really is an incredible place to call home.
Historically we are the birthplace of the first atomic bomb and the infamous outlaw Billy the kid. Admittedly, those two aren't particularly emblematic of peace, nor are the origins of the selling of New Mexico, but from this rough past we have emerged as a collaboration among three cultures: Native American, Hispanic and Anglo.
While New Mexico  does rank pretty low on many good lists and inversely pretty high on lots of bad ones, we work together and get along with one another despite our cultural differences. Better than anywhere else I have visited, there is a strong sense of a collective spirit and people are willing to lend a hand even to a stranger.
During my time in the New Mexico Legislature I've seen my share of changes. Young people have grown into adults, starting their own families, some cities have flourished and some have struggled, while others are now completely abandoned like the ghost towns spread throughout New Mexico and much of the West.
Most importantly, the way we think about many issues has evolved. For example, when I began in the legislature very few people had solar panels on their roofs and almost no one had heard of harnessing the wind to generate electricity, despite living in a state with some of the most ideal conditions for solar and wind energy production in the country. Today we have a wide array of communities with lots of solar panels and countless wind farms.
When I was first asked to speak here I took some time to reflect on what I would be able to say to such a distinguished group of people. What lessons could, a representative from a state with a small population that often goes overlooked, be able to offer people who have accomplished so much in their lives and have touched the lives of so many others. But then I began to think about the kinds of things I've seen over the years and how those experiences may be useful to others as lessons to take back to their own states and countries at the conclusion of this Summit.
During my time in the legislature I like to think I've seen almost everything. I stressed the word 'almost' because no matter how long you have been in public service you have not seen it all. Every time I begin to think I have, something or someone comes along to remind me that people will always be capable of surprising you in new and different ways; and with every generation our perceptions of the world shift, our ability and ideas evolve and our hope is renewed. Also, during my time as a public servant, I have continually been reminded of one concept and it is this reminder that I want you to take away from our time here today: Everything is connected.
As a lawmaker it is difficult to tackle one issue or to write and enact a new law without that law having some effect, some unintended consequence and sometimes benefit on some other aspect of law. And I think representative Danielito mentioned that in his comments. For instance, a case from the early 2000s in which scandals involving elected officials in a number of states prompted voters to push for laws that would make it illegal for public employees, officials and members of their families to accept any gift over $50; one state, Colorado, enacted such a law.
The idea behind it was simple enough: big money law should not be able to influence public officials with expensive gifts and lavish dinners. However, what no one anticipated was that family members of every public employee could not except any kind of gift over $50, including scholarships to colleges. One girl in Denver, a straight A's student with a single mother who could not otherwise afford to attend college was threatened with being disqualified her from competing for a scholarship, because her mother worked for the state's Department of Health.
In time, this issue was cleared up but it's an example of why we must be very careful when making laws because what seems like a good idea could causes problems that you didn't see coming, because everything is connected somehow. Think of it like throwing a rock into the still waters of the lake, it makes an initial large splash, yes, but then waves continue to ripple outward from that spot and before long a much larger area is experiencing those ripples.
I would generalize policies for sustainable development in three general areas: economic development with environmental perseveration and repair, healthy communities and education.
One of the most critical aspects of law making them is to envision the effects of any proposed new law and how they might ripple across our society. It is imperative that we always consider the big picture.
I have learned that solutions to our most pressing problems do not come in neat packages that only address one issue. For example, my home state is experiencing rising crime rates, however we now understand that the best way to combat crime is not to enact harsher and harsher penalties, but rather to provide young people with an education and opportunities to build up of communities and encourage the public to get involved and to treat drug addiction as a mental health crisis. Again, it's important to keep in mind that everything is connected. It is difficult if not impossible to talk about the preservation of Earth without talking about the impact of human life on everything around us. We depend upon Mother Earth for virtually everything and if we are all to coexist, we have a responsibility to constantly improve upon the ways we interact with wild life, with our oceans, rivers and lakes and with the natural landscape that surrounds us.
Technological advances have been both a blessing and a curse in this regard. Many inventions throughout history have been improved nearly every aspect of our lives. For medical breakthroughs to motorize vehicles to genetically modified foods. Unfortunately many of these very solutions and advancements are now responsible for the most pressing issues we are facing today. To me there are two critical ways for us to do this: one is to look back and the other is to look ahead. By looking back to the wisdom of ancient cultures and the way they lived or even to our grandparents and their relationship with nature. We too can learn to preserve life and land with deep respect and reverence for the generations that came before us, for the sake of those that will come after.
For example, in my part of the world we depend upon irrigation systems called acequias, many of which are hundreds of years old. They are an intricate web of ditches fed entirely by gravity, rather than pumping to deliver water to small farms across northern New Mexico.
Over the past several years New Mexico has been facing extreme droughts making an already scarce resource even more precious. As the drought worsened and lawyers started circling overhead like vultures (sorry all the lawyers out there), with legal threats looming everywhere, the water usage in my area did something interesting: they got together and figured out how to share the water finding a compromise to ensure that it would be fairly allocated. Without a sharing agreement, water law back home says that those users, the ones who had been using the water for the longest time, would continue to receive water while others would simply be cut off. Some people applauded this bold new approach, while most others acknowledged something else: Sharing our resources, such as water in deserts like New Mexico, is a centuries old tradition.
Using water for sustainable responsible farming is another example of how we can look back for ways to better stay in touch with our world and remain connected to the land. Two ways we have managed to do this in New Mexico are through farmers markets and improved farming practices.
Farmers markets promote healthy, organic and locally grown food that is grown on small scale sustainable farms instead of unsustainable chemical laden agribusiness farms. The promotional farmers markets in New Mexico and nationwide has led to an increase in the availability of healthy, fresh food in rural and urban communities, while promoting small scale rural economic development.
In an effort to expand access to health, fresh produce to low income consumers across the state, the New Mexico Farmers Marketing Association began the Double Up Food Bucks Program, which doubles the value of federal nutrition assistance when spent at participating farmers markets. It's especially nice for our children to be able to visit the market and speak directly with the farmer who grew the produce or raise the animal that now provides them and their families with food. To know the story behind where our food comes from allows us to reconnect to the land in our communities.
In New Mexico sustainable agriculture is promoted through private entities, such as Farm-to-table and public entities, such as the Cooperative Extension Service run by one of the colleges in the state, New Mexico State University. These assist New Mexico farmers in ** natural resources including our land and water, and even protecting our pollinators; Maintaining and improving water quality, improving the quality of life of rural communities, protecting the health of workers in the food production industry, promoting agricultural diversification, promoting locally grown  produce in our communities and providing for profitable agriculture that benefits our community.
By looking forward, we acknowledge that times have changed and that ancient solutions will not solve all of our problems, instead we can rely on technological advances and new approaches to find better ways of preserving life and land while remaining mindful of our history.
So new approaches involve ideas like paying living wages, expanding access to healthcare, promoting healthy lifestyles, seeking freedom from and alternative treatments for substance abuse issues, requiring health impact reporting and addressing systemic racism, gender bias and other social inequities. I have supported minimum wage increase legislation so that people who work day to day in creating prosperity for New Mexico may share some of that prosperity, and people may buy goods and services produced in New Mexico and grow the states economy overall.
Studies show that increasing the minimum wage is a sustainable policy that promotes not only individual workers welfare but the welfare of their communities. Providing access to healthcare through expanding Medicaid and providing greater access to health coverage, promotes the health of New Mexico community members; it also promotes employment in the growing healthcare sector and keeps that money circulating throughout our state.
We need programs that provide our communities with the means of accessing healthy food and maintaining active healthy lifestyles. And we basically made strides in New Mexico to make those things happen.
(And I think they're telling me I am running out of time so I'm going to try to be short here because I think everybody else is tired).
But I did want to show you one slide that I think is important and a lot of you may be familiar with and it's… I don't know if any of you are familiar with earthships, but in the beautiful mountains of Taos in northern New Mexico exists a very unique sustainable community that ** on science fiction. Architect and founder of earthships, biotecture Michael Reynolds started his headquarters in Taos and his vision has now spread all over the world, including Tahiti and soon Puerto Rico.
For the companies building structures that are both hurricane proof and a hundred percent self sustainable, earthships are homes and other structures built from natural and recycled materials, designed to be off grid, completely self sustaining and environmentally conscious. These are some of the things that as we collaborate we can achieve and we can work together to make sure that we all do our best to sustain our Mother Earth.
Thank you.
Details
Date:
access_time Thu, 10/04/2018 - 14:50