Salvadoran activists come together to save marine life
Global Embassy of Activists for Peace
Salvadoran activists come together to save marine life
World Day of Cleaning of Beaches and Rivers
In celebration of the International Coastal Cleanup Day, the Global Embassy of Activists for Peace (GEAP) in El Salvador, organized activities for the preservation of marine life from the main beaches of the national territory.
In partnership with various government institutions, associations and civil society, working groups were formed to raise awareness and promote in the communities the importance of keeping the maritime zones clean.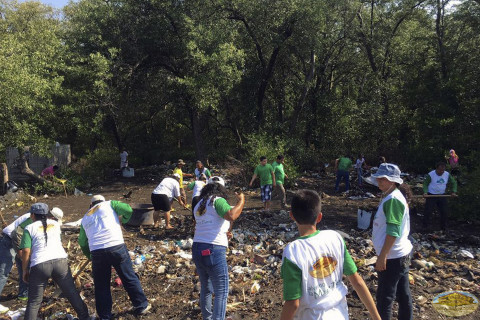 Environmental Day at Barra Salada Beach.
The volunteers carried out the work of collecting and classifying harmful waste on the shores of the coasts most visited by national and foreign tourists.
The event counted with the collaboration of the municipal mayors of the Port of La Libertad, Conchagua, Sonsonate and Usulután, as well as the Associations of Community Development (ADESCO).
The Naval Force of El Salvador, the National Civil Police, merchants, businessmen and members of the communities near the bays and rivers that flow into the sea, also participated in the cleanup.
The Guardians of Mother Earth during their tour visited the following touristic areas:
San Blas beach, department of La Libertad, central zone of San Salvador.
Playa Las Tunas, department of La Unión, eastern area of El Salvador.
El Espino Beach, department of Usulután, eastern area of El Salvador.
Barra Salada beach, department of Sonsonate, western El Salvador.
Finally, the collected waste was transported with the collaboration of the municipal mayor's offices to sanitary landfills where they will be processed.
Details
Date:
access_time Sunday, September 17, 2017