El Salvador: Indigenous people attend the 1st Regional Encounter of the Children of Mother Earth
Global Embassy of Activists for Peace
El Salvador: Indigenous people attend the 1st Regional Encounter of the Children of Mother Earth
With the objective of strengthening their commitment towards the wellbeing of Mother Earth, representatives from the Lencas and Kakawiras indigenous people, from the west of El Salvador, participated in the 1st Regional Encounter of the Children of Mother Earth.
The headquarters of the Ministry of the Government of San Francisco Gotera, department of Morazan, was the place chosen by the Global Embassy of Activists for Peace (GEAP) to hold the event, which is part of the International Program Children of Mother Earth.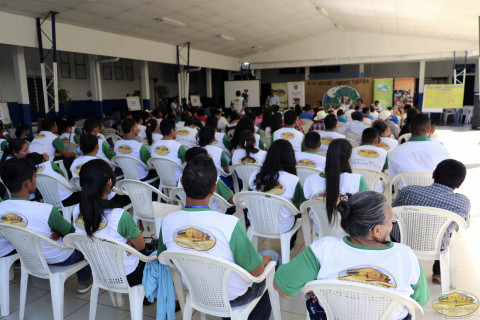 The GEAP in coordination with the Indigenous Council of Central America (CICA) and the Consejo Coordinador Nacional Indigena Salvadoreño (CCNIS), organized the event that generated proposals that will help reduce environmental impact.
The event opened with an invocation and gratefulness towards Mother Earth. Later, governmental authorities and members of different indigenous communities sat at the head table:
Jesus Martinez, CICA high consultant
Betty Perez, President of the CCNIS
Luis Salamanca, governor of Morazan
Salvador Hernandez, Valentin Perez, and Irma Benitez, representatives of local indigenous people
Samuel Escobar, GEAP coordinator in El Salvador
The lectures were based on the contribution that indigenous groups make in order for the human being to harmoniously coexist with Mother Earth, and their ancestral knowledge was considered as the path for the restoration and conservation of planet Earth.
The opening act of the Encounter ended with dance group "Los Cinco Negritos". Later, indigenous leaders from the Lencas and Kakawiras tribes gave their proposals in 11 work tables, where themes were developed and proposals where established in favor of nature.
The contributions were presented in a plenary by a representative from each table. The event concluded with the official delivery of the documents to GEAP coordinator Samuel Escobar, which collected the proposals given by the different work tables.
Details
Date:
access_time Saturday, February 4, 2017