Judges, prosecutors and lawyers from Guatemala receive a global educational project for peace
Global Embassy of Activists for Peace
Judges, prosecutors and lawyers from Guatemala receive a global educational project for peace
The GEAP developed the Forums "Educating to remember" and the exhibition "Traces to Remember"
A summit of the Global Embassy of Activists for Peace (GEAP) in Guatemala gathered around 200 judges, prosecutors and lawyers from the nation to discuss Human Dignity, Human Rights and Genocide, in the framework of the Forums "Educating to Remember" a project developed by GEAP to promote the study and teaching of the Holocaust as an effective tool to prevent and prevent genocidal acts in favor of building a peaceful world.
The forums were held during February, on the 3rd at the Howard Johnson Hotel of Guatemala City and on the 22nd at the Municipal Hall of Pastores, Department of Sacatepéquez. And in both was the exhibition "Traces to Remember" of the GEAP was presented. The organization of events was supported by the Academy of Criminal Sciences.
The authorities and specialists convened participated in these spaces of dialogue, where the Holocaust was located, as a paradigm of genocide, based on the fact that although there are many genocides in different parts of the world, this produced a change in the way of applying International Law.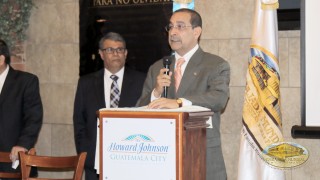 The GEAP promoted a Project Law to include in the curriculum of the different Latin American countries the study of the Holocaust as transverse chair, in order to collaborate with the decision of the international community of nations congregated in the UN, through Resolution 61/255 of January 26, 2007, which reads: "rejects efforts to deny the Holocaust which, by ignoring the historical fact of those terrible events, increase the risk they will be repeated."
Amongst the outstanding interventions, Dr. Luwin Villata, who spoke of genocide, indicated that Hitler was safeguarded in his constitution, claiming full adherence to the laws of his nation, therefore emphasized that "human rights must prevail over any constitution, because there may be constitutions that do not respect human rights ... Human Rights are spoken of as the dignity of the human person, legitimate access to justice, the right to know the truth."
UNESCO recognizes that teaching the history of the Holocaust is essential to foster the observance of human rights, fundamental freedoms and the values ​​of tolerance and mutual respect.
Solemn act with the palm prints of a Holocaust survivor
As a solemn ceremony in the forums, the testimony of Mrs. Regina Engelberg (†) survivor of the Holocaust and the unveiling of a plaque with his palm prints alongside those of her descendants was presented; which is one of the lines of action of the project "Educating to remember", whose main purpose is to keep alive the testimony of the survivors of the Holocaust, as a way of creating spaces of reflection and education on this crime and its consequences.
This initiative of Dr. William Soto, Executive President of GEAP, contributes to the implementation of UN resolution 60/7, which
"…urges Member States to develop educational programmes that will inculcate future generations with the lessons of the Holocaust in order to help to prevent future acts of genocide."
Details
Date:
access_time Monday, February 22, 2016