The GEAP receives a proclamation in the USA for World Blood Donor Day
Global Embassy of Activists for Peace
The GEAP receives a proclamation in the USA for World Blood Donor Day
The Court of Commissioners of Bexar County, San Antonio, Texas, recognized the Global Embassy of Activists for Peace (GEAP) for the Life is in the Blood Program, through a proclamation for World Blood Donor Day , delivered on June 13 by commissioner Tommy Calvert, district four, in a tribute to voluntary and regular donors.
This event was held at the facilities of the South Texas Blood & Tissue Center, Blood Bank of the city of San Antonio, Texas, where Alicia Miller, director of donor recruitment, welcomed and highlighted the indispensability of blood donations. Among those present was Joey Pawlik, on behalf of Barbara Hawkins, representative of the State of Texas District 120.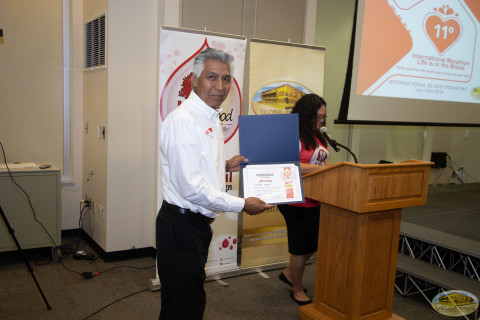 Over the years, GEAP volunteers have become examples of regular donors
The GEAP thanked voluntary donors for their contribution in saving the lives of people who require the
vital liquid tissue
to recover their
health
, granting them a certificate where their praiseworthy work is recognized.
Attendees enjoyed a tour of the facilities of the South Texas Blood & Tissue Center where they observed the processes performed by the blood bank so that the effective units reach hospitals in the region. During the activity a space was opened for citizens to come to donate blood.
An act that saves lives
Mr. Brandon Frail, father of a blood recipient, touched the audience by telling the story of his son, who at 4 years of age was diagnosed with end-stage cancer, which last year received approximately 200 units of blood. According to Frail, this has allowed him to value, recognize and appreciate the voluntary action of blood donors and the institutions involved.
Bajo el lema "De corazón dono sangre y salvo vidas" se celebró el "Día Mundial del Donante de Sangre"

World Blood Donor Day
As part of the celebration, the GEAP held 9 blood drives in 7 cities: San Antonio, Houston, Dallas, El Valle, Waco, Texas; as well as in Oxnard, California and Oklahoma.
Under the slogan "With love from my heart I donate blood and save lives" the blood drives were held, with the participation of blood banks from different regions, which highlighted the enthusiasm, the creative resources of the volunteers and the human talent of the activists who sensitized the population and visited the media to spread this peace teaching.
Details
Date:
access_time Friday, August 31, 2018