The GEAP contributes with safe blood supply in Puerto Rico
Global Embassy of Activists for Peace
The GEAP contributes with safe blood supply in Puerto Rico
60 Activists for Peace of Puerto Rico, started the 11th International Blood Donation Marathon "With love from my heart I donate blood and save lives", a campaign that takes place internationally throughout the month of June, with the aim of contributing to the availability, supply and demand of safe blood in health centers..
The Global Embassy of Activists for Peace (GEAP) through the Integral Program: Life is in the Blood, organized a blood drive on June 2,14, 15 and 16, at Plaza Las Americas Shopping Center in San Juan and at the Cayey Associated Sales Club.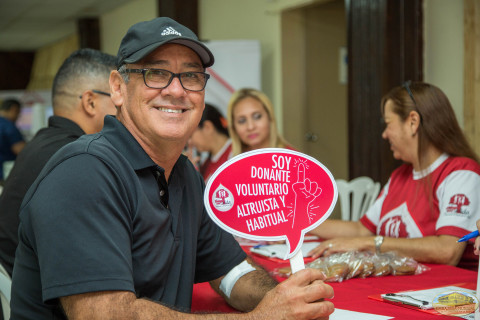 Blood collection in the Associated Sellers Club of Cayey
In the campaigns carried out with the support of the
Blood Bank of Mutual Services
, INC, 491 people attended to donate blood, with the result of 348 effective units. Likewise, 2,256 citizens received awareness talks about the culture of voluntary, altruistic and regular donation of safe blood.
María Hernández, assistant of the Blood Bank of Mutual Services INC, said that during school holidays, the presence of blood donors in hospitals decreases by 50%. She also indicated that during this season more accidents occur, and that due to this situation, they carry out more drives in the months of June and July.


Increase citizen participation
The GEAP aims to increase the active and effective participation of citizens through these donation campaigns, to ensure blood supply to all people who require it. For this reason, international marathons are held in the months of greatest need for blood units.
Jusiel B. Rivera, voluntary blood donor, said that it is the responsibility of every human being to be in solidarity with their peers. On the other hand, Sharelly Rivera, peace activist, said: "I join this campaign to promote love and respect for life."
The GEAP in Puerto Rico carries out blood drives and awareness activities to promote the principle of love, positive values of the human being and to achieve the recruitment and retention of voluntary and regular donors of safe blood.
See: 111 Puerto Ricans supply Cayey's blood bank
Details
Date:
access_time Saturday, June 16, 2018