The GEAP celebrates 70 years of the edition of the diary of Anne Frank
Global Embassy of Activists for Peace
The GEAP celebrates 70 years of the edition of the diary of Anne Frank
In order to celebrate the 70th Anniversary of the edition of the Diary of Anne Frank, the Global Embassy of Activists for Peace (GEAP) in Argentina held an event at the Primary School No. 7 "Our Lady of Carmen", Buenos Aires. 70 students and 15 teachers participated along with director Carla Bacigalupo and vice-director Álvaro Loto.
This activity is part of the "Educating to Remember" Program developed by the GEAP, with the objective of keeping alive the testimony of Holocaust survivors, to prevent the repetition of this genocidal act and to exalt respect for life, freedom and human dignity.
Living testimony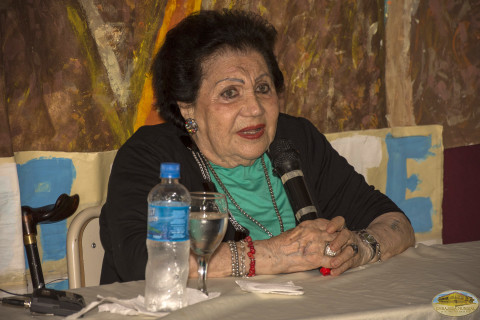 Testimony of survivor Eugenia Unger
The homage in memory of Anne Frank consisted in the exhibition of a photographic gallery about the events that took place during the Holocaust. Likewise, a plaque with the hand prints of the survivors Julio Pitluk and the Zafrán family was exhibited as part of the "Traces to Remember" program. (See: Traces to Remember Program)
During the tour of the exhibition, 5th and 6th year students listened to survivor Eugenia Unger, who told her story during World War Two and how she managed to get out alive.


The meeting ended with a question and answer session, where students learned about the consequences that intolerance, hatred, discrimination, prejudice, stereotypes, disrespect for life and human dignity can bring.
Details
Date:
access_time Monday, November 6, 2017