Costa Rica creates awareness in favor of wildlife
Global Embassy of Activists for Peace
Costa Rica creates awareness in favor of wildlife
The Global Embassy of Activists for Peace (GEAP) in Costa Rica joined the Fidel Tristán Pedagogical School to celebrate World Wildlife Day, with the aim of educating and raising awareness among children, young people and adults about the importance of caring for and protecting the wildlife of Mother Earth.
March 3, declared by the UN as the World Wildlife Day, offers an opportunity to celebrate the beauty and variety of wildlife flora and fauna, as well as to raise awareness about the multitude of the benefits that conservation of these forms of life have for humanity.
Days before the activity, GEAP volunteers visited the school encouraging children to express their love for animals and Mother Earth through the creation of their own crafts in recycled material.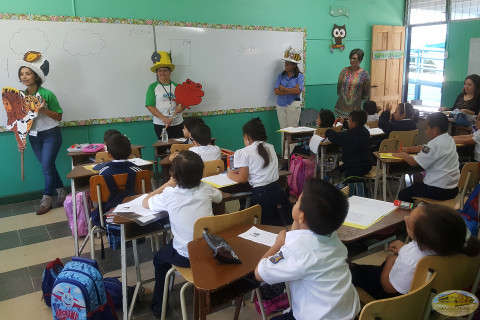 GEAP volunteers provided support to environment teachers
Environmental Parade
The celebration began with a parade where the students represented the animals that are endangered, raising awareness in Costa Rican society to conserve wild biodiversity.
At the end of the parade the GEAP volunteers went to the gymnasium of the school where the environmental exhibition was held, which had three modules, under the theme: "Save the wildlife of our Mother Earth."

Module 1: Representations of the elephant, lazy monkey, jaguar and leatherback turtle, where information was offered about these species that are at risk; they also presented the measures that are being carried out for their care and protection.
Module 2: Scientific proposals were shown, which support the recognition of our Mother Earth as a living being and the proposal of Dr. William Soto Santiago, executive president of the GEAP on the Universal Proclamation of the Rights of Mother Earth.
Module 3: Students and teachers learned about the work that the GEAP is carrying out through the International Children of Mother Earth Program, through the Environmental Movement "Guardians for the Peace of Mother Earth."
To raise awareness is to preserve
More than 400 students received information about how to care for and save the fauna and flora of Costa Rica, thus contributing to the closest aspects of sustainable development and the welfare of human populations, such as ecological, social, scientific, educational, cultural and recreational.
Students drew up posters and drawings of the animals that impacted them most, demonstrating their commitment to the care of Mother Earth and all living beings that inhabit it.
Finally, the director of the School Pedagogical Unit, Fidel Tristán, and librarian Nicol Leroy, thanked the GEAP for the work towards the care of wildlife, encouraging all the teachers to take that seed to the children day by day.
Details
Date:
access_time Friday, March 3, 2017