757 students in Costa Rica receive talks on environmental matters
Global Embassy of Activists for Peace
757 students in Costa Rica receive talks on environmental matters
The Global Embassy of Activists for Peace (GEAP) in Costa Rica, was invited by members of the Environmental Education Program and Ecological Blue Flag, to participate in educational talks on environmental issues, promoted by Stein Laboratories.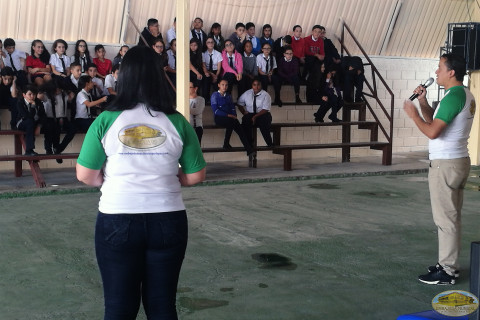 Activists dictating the talk of the 5R
The activities had as theme: Education and culture for the environmental peace of Mother Earth, with the participation of 757 second cycle students (fourth, fifth and sixth).
The GEAP participated in the event by making known the International Program Children of Mother Earth. Peace activists wore costumes alluding to nature made from recycled material.
The main theme of the exhibitions was based on the importance of applying the 5Rs of recycling from homes, communities, institutions and companies, as an effective tool for the preservation of the environment.
The attending institutions were:
French Republic School, San Nicolás, Taras, Cartago

Carlos Luis Valverde Vega School, San Isidro, Tejar, Cartago

Arturo Volio Jiménez la Lima School, San Nicolás, Cartago

Our Lady of Fatima School

Stein Laboratories

World Embassy of Activists for Peace
The students committed themselves to take care of the environment and apply the knowledge acquired about recycling for the benefit of Mother Earth.
Details
Date:
access_time Thursday, May 31, 2018