In Costa Rica the celebration of the World Donor Day added new heroes for life.
Global Embassy of Activists for Peace
In Costa Rica the celebration of the World Donor Day added new heroes for life.
Blood Donation Day to celebrate the annuity
In Costa Rica, the Global Embassy of Activist for Peace (GEAP) along with the National Blood Bank, united on June 14th to celebrate the World Blood Donor Day, with a blood drive, where more than 200 people belonging to private companies and to the metropolitan area, voluntarily joined to save lives.
Each year the World Health Organization (WHO) promotes this annual commemoration for the blood donor, with the objective to thank volunteers for their selfless action, which allows them to save human lives.
In honor of demonstrating their love for others, the GEAP celebrated this day and motivated blood donors to continue in this race for life that benefits the health of many people and, in turn, brings peace to the family.
"In a family with health problems in their home, that needs blood to obtain good health, they cannot have peace without that resource; but if blood and supplies are provided for that person, peace can return to that family", stated Dr. William Soto, Executive President of the GEAP.
Through the Integral Program "Life is in the Blood", more Costa Rican's appear on the list of voluntary habitual donors, who, at each blood drive held by the Activists for Peace in different regions of the nation, show up to donate blood, to help those who are in need of this vital liquid.
The celebration ended with a lunch offered by the National Blood Bank to the Activists for Peace and volunteers, who pledged to continue to support this work that connects us all, the WHO 2016 slogan. (See: General Information of the WHO).
The GEAP programmed this celebration in 20 countries of Latin America, United States and Spain, and the same time, the development of the 7th International Marathon "Life is in the blood", during the month of June.
See International summary of World Blood Donor Day: Heroes for life receive tribute on World Blood Donor Day.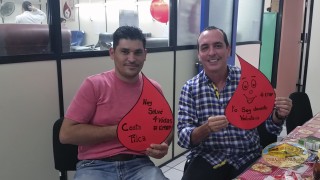 Details
Date:
access_time Tuesday, June 14, 2016