Commemoration activities in honor of the victims of the Holocaust
Global Embassy of Activists for Peace
Commemoration activities in honor of the victims of the Holocaust
On the International Holocaust Remembrance Day of, the Global Embassy of Activists for Peace (GEAP) in Argentina, presented a photo gallery on the events that occurred during World War II and the exhibition of plaques in honor of the survivors Edgar Wildfeuer and Ceslada Eisen de Keselman.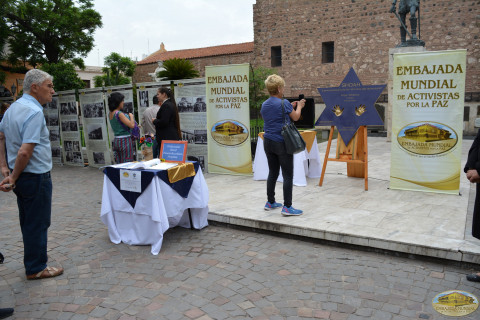 Plaque in the form of the Star of David
The platform of the Founder of Cordoba was the place where the act that brought together more than 500 people took place, which also attended by the deputy director of Institutional Relations of the municipality, Marcelo Castagno; the director of Human Rights, Guadalupe Mías, and Lita Sued, host of the radio program Kol Hashalom 580 AM.
David's star. Through the program "Traces to Remember" the GEAP presented a plaque in the form of the Star of David that contains the palm prints of survivor Edgar Wildfeuer, as well as the palm prints of one of his children and those of one of his grandchildren.
• See: Educating to Remember Program
As part of the remembrance, the activists for peace and the president of the human rights and religious diversity commission of the legislature of Córdoba, Adriana Domínguez, participated in the radio program Kol HaShalom that is broadcasted by AM 580 and is conducted by Ana Nélida Sued and Solomon Wainberg.
In this space, guests talked about what happened during the Holocaust and the Educating to Remember program was presented.
Solemn ceremony in Mar del Plata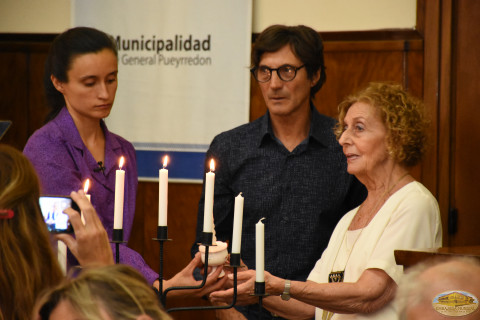 The platform of the Founder of Cordoba where the plaque of the Star of David was exhibited.
On January 29, the Honorable Deliberative Council of the city of Mar del Plata and the Union Marítine Israelite Society (SUIM), held a solemn ceremony where the commemorative plaque of the survivor Ceslada Eisen de Keselman was presented.
This event was attended by representatives of governmental entities, ecclesiastics, armed forces, academics, Malvinas veterans and special guests, including:
• President of the Honorable Deliberative Council, Guillermo Saenz Saralegui
• Ombudsman, Fernando Rizzi
• General Director for the Promotion and Protection of Human Rights, Sonia Rawiki
• President of the Unión Marítine Israelite Society, Claudia Malamud
• Secretary General of the Delegation of Israelite Associations of Argentina, Mario Tannenbaum.
• Regional Coordinator of the EMAP in Mar del Plata, Gisela Sosa
• Regional Coordinator of EMAP in Tres Arroyos, Sara Barile
The act of commemoration ended with the lighting of the Menorah, a ritual of Judaism that takes place in memory of the six million Jews who were victims of the genocide perpetrated by the Nazis.
Details
Date:
access_time Friday, January 26, 2018