The World Environment Day in Bolivia promoted the formation of 3,000 guardians of Mother Earth
Global Embassy of Activists for Peace
The World Environment Day in Bolivia promoted the formation of 3,000 guardians of Mother Earth
Schools in different cities received the GEAP for the development of educational workshops
Recognizing Mother Earth as a living being, and the environmental action of the 5 R's (Recycle, Reuse, Reduce, Reject and Re-educate) were the central themes that the Global Embassy of Activists for Peace (GEAP) promoted in Bolivia, through educational workshops as part of the celebration of the World Environment Day (June 5); involving around 3,000 students from various schools.
The main objective of these activities is education in environmental values, for the formation of the Guardians for the Peace of Mother Earth, an environmental movement that the GEAP promotes for the protection, restoration and defense of the inalienable rights of Mother Earth.
Environmental education sessions were recorded in four cities during the week, consisting of lectures and educational activities; among these, Flori, Espin and Club R (cartoon characters), were designed for kindergarten, elementary and middle school students.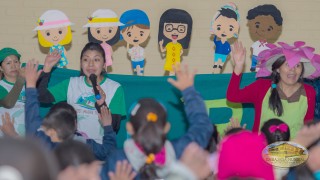 This voluntary action carried out by hundreds of activists for peace in the nation, is part of the International Program "Children of Mother Earth", which the GEAP develops to promote a culture of sustainable green citizenship in harmony with Mother Earth. (See: "Children of Mother Earth" International Program)
Children and young people received information about the importance of recognizing the planet Earth as a living being, as well as the environmental actions that can be performed individually and collectively, boosting their commitment as Guardians of Mother Earth.
In the city of Santa Cruz they visited educational units Anita Suarez de Leigue, Vida Nueva, Bellas Artes, 18 de Noviembre, Bernardo Cadario and Oscar Unzaga de La Vega.
In the department of La Paz, municipalty of Achocalla, the activity was held at the educational institute René Barrientos, where 400 students, teachers and the director, Efrain Ajata, participated. Also in the Education Unit Mariscal de Santa Cruz, in the city of Oruro, the conference included a total of 500 children.
Environmental talks in Tarija, reached 1,000 students, from institutions like Carmen Echazú, Colegio Rosa Arce and Education Unit Avelina Rana. Also in the city of Trinidad, capital of Beni department, awareness of environmental care was carried out in the institution San Vicente, this time aimed at 600 young middle schoolers.
Environmental activities of the GEAP, in Bolivia, have had an extensive outcome and acceptance, in an institutional, academic and at a national level, as a nation committed to the protection of Mother Earth. The State provides an Environmental Law 1333, on environmental issues with an interdisciplinary approach and mandatory plans and programs at all levels, degrees, cycles and teaching methods in the education system.
See other events of the program "Children of Mother Earth" in Bolivia:
-Bolivianos demonstrate their commitment to the Universal Declaration of the Rights of Mother Earth
-Great Environmental mobilization in Bolivia for the celebration of the International Day of Mother Earth
Details
Date:
access_time Friday, June 10, 2016