President of the National Congress of Paraguay extends the global call for CUMIPAZ-2016
Global Embassy of Activists for Peace
A global invitation to work for peace was made by the President of the National Congress of Paraguay, Senator Roberto Acevedo, to parliamentary colleagues from every nation, political, diplomatic, judicial authorities, businesspeople and academics to participate in the Peace Integration Summit – CUMIPAZ -2016, to be held on October 4th to the 8th, at the Legislature Grounds.
The Republic of Paraguay was selected as the host for the second edition of CUMIPAZ, organized by the Global Embassy of Activists for Peace (GEAP); an organization that projects the country as the "Peace Capital of the World" this 2016.
The invitation given by Senator Acevedo was also converted into an audiovisual spot, which will be broadcasted and shared by the organization of the Summit to the entire world. The legislator expressed in the video:
"For Paraguay, the realization of this Summit, organized by the Global Embassy of Activists for Peace, is of great contribution towards the union and harmony between the people, and the strengthening of a culture for peace. We welcome you to the heart of South America, to our beloved Paraguay."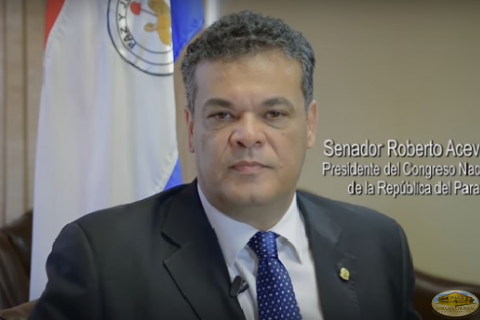 The Honorable National Congress, the Chamber of Representatives, the diplomatic body and other power instances of the nation, have manifested their commitment to the development of CUMIPAZ – 2016, which was declared as an event of National Interest (Declaration N456).
CUMIPAZ is a high level annual meeting that creates an international space of dialogue and integration, calling upon leaders from the political, judicial, educational, business, environmental fields and the civil society of the world, with the aim of formulating, studying and debating proposals and global projects, that seek, through concrete and viable actions, the strengthening of respect for life and human dignity, integral peace and happiness, as well as the defense and practice of Human Rights and the rights of Mother Earth.
The call is opened to representatives of supranational and multilateral organizations, States, Governments, nongovernmental organizations, and educational, business, cultural, religious sector and the civil society.
See: (Global Call for CUMIPAZ 2016)
For more information, please contact us at the following email: cumipaz@embajadadeactivistasporlapaz.com
Details
Proyecto:
CUMIPAZ Peace Integration Summit