Mapuche community celebrates 10th anniversary of the Voces Originarias group
Global Embassy of Activists for Peace
Mapuche community celebrates 10th anniversary of the Voces Originarias group
In the framework of the 10th anniversary of the Voces Originarias group, held at the San José Cultural Center, the leader of the Mapuche Pillan Manke community, Mirta Millan, invited the Global Embassy of Activists for Peace (GEAP) to participate in a panel of intercultural dialogue.
The dean of the Faculty of Social Sciences, Gabriela Gamberini, also, the extension secretary, the director of the La Máxima Biopark, among other institutions participated in the activity.
The subject discussed was the Intercultural Law and what each individual can contribute to establish it through education. The Voces Originarias group promotes intercultural dialogue, from the recognition of diversity and the rights of indigenous peoples.
Resignification of plates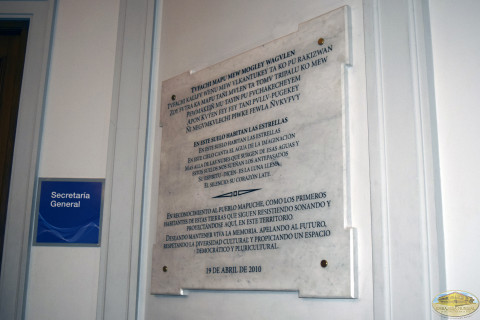 Reconocimiento al pueblo Mapuche
Then, the resignification of the plates that were placed in the San Martín Municipal Palace and in the Honorable Deliberative Council, in memory of the Mapuches who were exiled and paid with their lives for the colonization of these lands, was carried out.
The event, where the Argentine and Wipala flags were raised, was attended by the president of the Deliberative Council, Eduardo Rodríguez and councilors from different political blocs. The commemoration ended at the La Maxima Biopark, a Condorera sector, where the ancestral ceremony of the Sacred Circle was held. (See: List of institutions that attended the event in the Deliberative Council)
Art and exhibition
On April 20th, at the San José Municipal Cultural Center, the first exhibition of art and exhibition with the theme "Indigenous Peoples" was inaugurated. This space allowed local artists to present their works to more than 50 people. (See: List of artists and groups that attended the opening of the first exhibition of art and exhibition "Indigenous Peoples")
For its part, the GEAP presented a calendar that highlights the dates that are relevant for indigenous peoples and the environmental ephemeris celebrated by this institution through the Social Program Children of Mother Earth. The almanac was made with recyclable material.
Details
Date:
access_time Thursday, April 20, 2017