CUMIPAZ 2017 presents music as a power to change societies
Global Embassy of Activists for Peace
To celebrate the beginning of the Summit of Integration for Peace CUMIPAZ 2017 – Panama, the Symphonic Concert of Integration for Peace will be offered.
In addition to enlivening the Inaugural Gala, it will be the stage presentation of the program "The power of music for peace and happiness of the integral human being."
The Symphonic Orchestra of the Global Embassy of Activists for Peace (OSEMAP) has convened 60 musicians and singers of different ages, nationalities, and cultures to interpret a repertoire of international folklore and new pieces.
The OSEMAP is presented as a result of the program, promoting a paradigm shift in the music system, using music as a tool in the integral formation of people, to sow in the heart principles and values that harmonize the individual with his/herself, and with Mother Earth.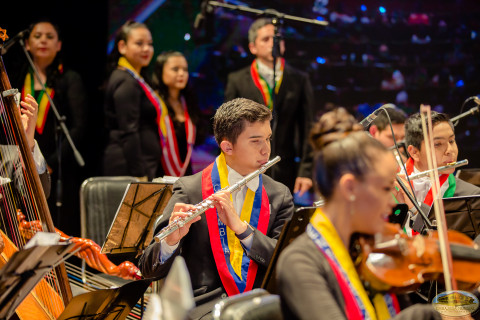 The orchestra also promotes a worldwide movement for the return to the natural tuning of humans, from 440 Hertz (Hz), which is currently dominant, to 432 Hz – considered the frequency of peace. As so the symphony plays their pieces tuned to 432 Hz. See more about the OSEMAP 
Concert Date and Location. The event will take place on Tuesday, October 17th (8:00 pm) in the new building of the National Assembly of Deputies, Panama City, and there will be free entry.
The OSEMAP will bring peace and joy to the country's institutions. As part of the program, the orchestra will organize in groups and visit hospitals, orphanages, and senior centers, to share with children, youth, and seniors, music for peace and joy of hearts.
A change in feeling, thinking and acting
The program "The power of music", seeks a change in the feeling, thinking and acting of people, especially children, and youth, therefore promotes the conscious and reflective consumption of music, which has to do with the origin, the frequency, the lyrics, and rhythms.
By considering music as a power that directly impacts the heart or soul of people, through the program, education stands out as an effective instrument, and therefore, an important tool to transform societies and promote a culture of peace.
Through this initiative, ten countries have formed symphonic orchestras that, besides preparing children and youth in the musical area, offer them the opportunity to acquire a profession that can transform their lives, and as individuals contribute positively to their environment. Read more about the program
"Music is an art that can bring joy or sadness, brings peace or internal war to the human being. It is important that we understand that music has a power that moves the body, the spirit and the soul or heart of the human being. Music is the universal language that can unify people and bring peace among human beings."
Details
Proyecto:
CUMIPAZ Peace Integration Summit