Cristina Bonillo Olivares | Differentiates the brand and generates happiness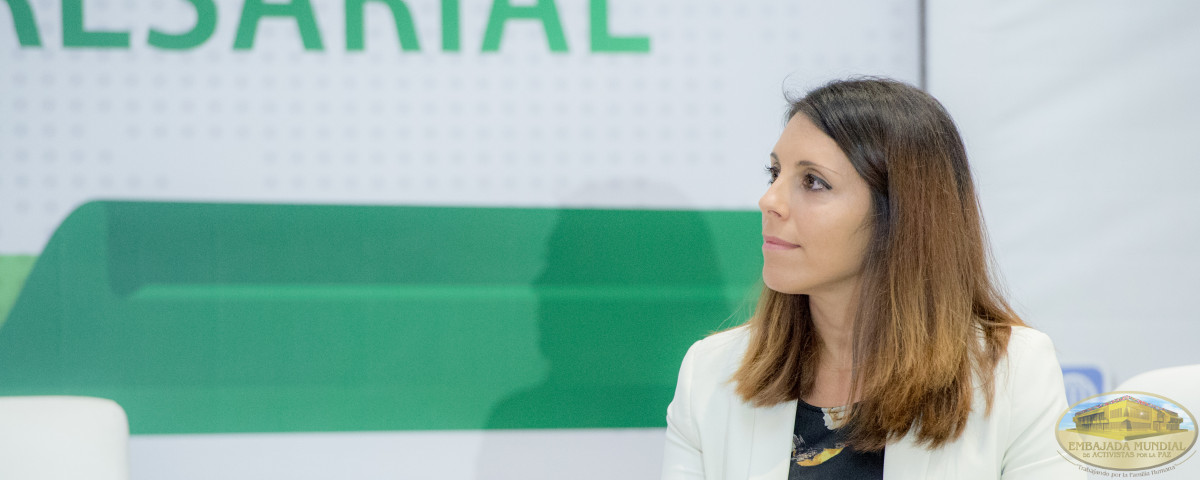 Thank you. Good afternoon.
Well, the first thing I wanted was to thank you all for your presence here today and the opportunity that CUMIPAZ and the Embassy have given me to be here today. I am pleasantly surprised by the call, the positive energy that I can feel in this room, even though we finished having lunch just 10 minutes ago and it is a complicated hour.
I would like to tell you a little about Unilever's practices but, more than tell you about Unilever's practices, I would like us to understand why we do it, why we do sustainable business. Everything certainly has an explanation; we do not do it for marketing, we do not do it because we save, although both are intrinsic benefits. However doing sustainable business ... (I do not know if we have a ... to be able to pass ... Sorry, I want to show you why).
Meanwhile I tell you why we migrated from talking about social responsibility to sustainable business. For us to do sustainable business, it is part of the daily life of the company. It's not something that I, Cristina Bonillo, do in the company and I lead; rather, our president leads projects of sustainability and development, our vice president of supply chain leads sustainability projects; our marketing managers, their own brands have their projects of sustainability.
So, the beauty of this company and what connects us all is that really the way of doing business is different; it's designed to reach the consumer with a different added value.
Here I think we have a framework that we all know quite well, which are the Sustainable Development Goals.
I could start telling you about all the projects we have and how each one matches each Objective, and we would practically have projects in all the Objectives, but it is not the point. I want to explain to you that for us the Sustainable Development Goals, besides being certainly objectives that promote environmental development and social development, are also opportunities to improve the economy, and as we improve the economy, development reaches the countries.
This is our vision. What does sustainability mean to us? It means growing more as a company, reaching more consumers with brands that have purpose.
There I included some data: 46% of the growth of our company globally is driven by brands that have purpose. And what does this mean? They are brands that in some way have a positive social or environmental impact; that is to say, practically half of the growth is already coming from this type of brands. And that has another meaning, and that is that consumers are increasingly concerned about the products they buy and how they impact the planet.
To the extent that we achieve better programs and better brands, we will also achieve that growth to continue investing in better brands.
In addition, it generates lower risks. For example, I can tell you that 56% of the agricultural raw materials that we consume already come from sustainable sources. What does that mean? It means that we have a field "for a while," as we like to say. If we exploit the land in an irresponsible way, thinking that resources have no limit, we will not have raw materials to produce tomorrow. To the extent that we can generate sustainable purchases, we are guaranteeing a supply for tomorrow and we are guaranteeing better opportunities for farmers and suppliers.
In addition, sustainability has another advantage, and that is that it generates savings; we have lower costs. At first investments are expensive; if one wants, for example, to install solar panels, it is an investment that obviously has a cost at the beginning, but the return on investment is much higher. The proof is that we have measured around 490 million euros of savings in the last 7 years since we began to implement our sustainability strategy.
What do we see of opportunities in the socio-environmental investment sector? We know, according to the World Health Organization, that for every dollar that we invest in a project that has to do with sanitation, the return on investment can be up to 6 dollars; for each person in which we invest a dollar, to get them out of malnutrition, we will have a return on the economy of 17 dollars; and for every dollar we invest in drinking water, in access to drinking water, the return on investment can be between 5 and 60 dollars.
So, is it or is it not an opportunity for the economy to develop? What do you all think? Clearly; and in that line is that we have been working.
For example, here in Central America... I have to say one thing, and that is that I have worked during the last 10 years of my life in Central America, and especially from this beloved country Guatemala, which I adore; so I'm going to bring many examples from Central America, because it brings me very good memories.
So, we work in Central America with many institutions, but some of those that we work with to bring those benefits to the economy that I just mentioned are the food banks, the World Food Program in El Salvador, or our Dove Self-esteem Program, which aims to train boys and girls to avoid the issue of bullying and harassment at school, which is one of the most serious problems we now have in schools.
If we are going… to see… we continue to see advantages of social investments.
I spoke before about sustainable agriculture; sustainable agriculture has a reason. There are studies by FAO (which is the World Food and Agriculture Organization) that tell us that, if we restore 12% of the soils that are degraded right now, small farmers would have opportunities of more than 35 billion dollars per year, and those opportunities would allow us to feed 200 million people for the next 15 years.
We know that currently 800 million people in the world are still hungry; if we could restore only 12% of those soils, we could feed 200 of those millions of people for the next 15 years. We have to work in that direction, therefore.
And in addition there is a very big problem also with the companies that we work with in the subject of foods, as it is the case of a Unilever. Do you know that 1.3 billion tons of food are wasted each year? 1.3 million tons. Imagine what that means for the economy, for the number of people we could feed, and also for carbon emissions.
We know that carbon emissions... If the waste of food were a country, what number do you think it would occupy as a carbon emitter? Number one, two, three? If it were called "Waste of Foods Country;" let me tell you that it would be the third country that emits CO2 into the atmosphere, behind China and the United States.
So, do we have to work to solve these problems? Yes, we have to work. And that is why we have been doing things like this campaign that we have done in Argentina, where we have reached 8 million people through an alliance with FAO and Carrefour to raise consumer awareness regarding food waste, because we know that 30% of the waste of food happens at home. So then, we have to be able to reach the consumer, to teach the consumer to buy responsibly, and to use responsibly the resources they buy.
We also know that the companies that invest to alleviate climate change have a much higher return on investment than those that do not (specifically 18% more), and we know that if we migrated to a circular economy (that is, that we could take advantage of everything that we are throwing out to the landfill today, to the oceans, etc., which by the way is more than 90%) we could generate 100,000 new jobs in the next 5 years. So we have decided to work also for natural resources.
An example is the plant that we have here next door in El Salvador, of detergents; it is an exemplary plant: It has managed to reduce, within the last year, 40% of water consumption through the collection of rainwater, the installation of efficient systems. And this, do you know how much it amounts to? Its equivalent to 75,000 bottles of water, from which we drink every day. So I think it's a practice to replicate throughout Latin America.
And the last thing I want to tell you: Women, inclusion, diversity. Women are part of the economy, but they still occupy a much lower place in general than men.
The studies of consultants and UN Women tell us that, for each extra year of secondary education that a girl manages to finish, her income opportunities will grow around 20%. Women move the economy: We go to the supermarket, we move our families; therefore, investing in girls' education is really important in order to keep moving the market, jobs, generate opportunities and healthier families.
And for that reason, for example, in the case of Latin America we are implementing this program, which is called Shakti, which means woman with power in the Hindu language. Shakti is a program by which we reach rural, remote women, who do not have employment or educational opportunities, and we offer them the opportunity to distribute our products in small quantities and keep the return of the distribution, instead of us doing it through other larger companies.
I'll share with you the case of Mayda, Mayda Alejandra, who is a Colombian woman who started with us in this Shakti program and is a life example.
Mayda lived in a remote community, and today she alone has managed to sell almost 400,000 euros in product, has taken the product to 74 communities that did not have access to basic products, such as toothpaste, body soap, etc.; and in addition has generated employment for 1,300 women. She, in fact, has won a Unilever award globally; it is what we call a "Hero with impact."
The risks are large; the markets are unstable, every day we lose more ecosystems. This morning I was reading an article in Colombia about deforestation and how the jungles of Colombia are becoming extinct. Inactivity in matters of sustainability costs us many, many millions a year. The International Monetary Fund has estimated it at 5.3 trillion (that I will say, to tell you the truth, I do not know how many zeros that is) for the global economy.
So, what can we do? I believe that what we can do is act together, work together; and here I want to ask you a question, and then we decide what we can do together.
[VIDEO PROJECTION]
LOCUTION: So, who are you? Are you someone who thinks saving the planet is for other people? Are you one of those that say, "Big companies are part of the problem, not the solution, and one person can't make a difference"?
Or are you someone else? The enemy of apathy, the challenger of "can't do," "won't do," the anti-civic.
Are you someone empowering thousands of entrepreneurial women to work in remote villages? Are you one of the "can do-ers," encouraging dads to brush with our kids, helping to establish healthy routines?
Are you training the small hole farmers, with methods kind to the land and to the land beyond the fence?
Are you encouraging mothers, proud of their homes, big or small, to switch to low temperature washing to save energy?
Are you someone with ambitious goals, you don't always know how you are going to get there, but you are going to take that first step?
Are you someone who understands that little things do count, do matter, do a difference for you and all those around you? Is that who you are? Then you are in the right place.
Well, I think we're all in the right place today, because if we're here it's because we're really are these concerned people. Sometimes we think that big companies, small ones, people can't make changes; however, I deeply believe, and all of us who work at Unilever believe it, that any small action generates a huge, huge difference to the planet.
So, I invite you to look for us, to work together, to bring us your ideas, because we will not achieve all those overwhelming goals that we saw at the beginning, if we do not work together for the planet.
Thank you.
Details
Date:
access_time Tue, 10/02/2018 - 00:00