"Separa" Campaign: For the culture of recycling
Global Embassy of Activists for Peace
"Separa" Campaign: For the culture of recycling
In the city of Tres Arroyos, volunteers from the Global Embassy of Activists for Peace (GEAP) attended a press conference at the Environmental Management Secretariat, where the "Separa" Campaign was formally presented.
On June 22, Ricardo D'Annunzio, the secretary of Environmental Management, received the main media in the region and the Activists for Peace, who support the initiative through the Social Program "Children of Mother Earth."
The project consists of encouraging the population to carry out the separation of dry and moist waste at source; this action will enhance and optimize the operation of the waste disposal and treatment plant, which will be inaugurated on June 24 with the presence of authorities from the province and the nation.
Javier Kristensen, the coordinator of institutional communication, said the campaign will be promoted through the media and social networks.
"The campaign will be widely publicized through audiovisual material, advertising spots and work with social networks, to reach out to young people, educational institutions and the general public," said Kristensen.
D'Annunzio reported that the GEAP volunteers will give training talks at the educational institutions that request it because it is necessary to teach about the importance of separating the waste origin from the school.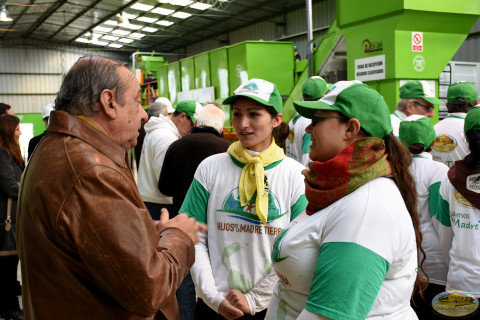 On June 24, the Waste Disposal and Treatment Center was inaugurated in the city of Tres Arroyos, an event organized by the Environmental Management Secretariat.
Mayor Carlos Sanchez took part in the event; the executive director of the Provincial Organism for Sustainable Development (OPDS), Roberto Pagola; and Alfredo Irigoin, adviser to the Chief of Cabinet of the National Ministry of Environment and Sustainable Development.
The intendants of Benito Juarez, Julio Marini; from Gonzales Chaves, Marcelo Santillan; and from Azul, Hernan Bertellys also attended the event; as well as representatives of the municipality of Necochea and Olavarria; the provincial deputy Rosio Antinori; members of the primary school Nº 56 "La Virgen de la Carreta," GEAP volunteers and general public.
Carlos Sanchez during his speech said:
"I consider that we are a national reference in the care and treatment of the environment; we have closed down all the garbage dumps, eight in all, in the district."
For his part, Secretary Ricardo D'Annunzio said:
"We reached the highest level established by the OPDS so that the neighbors have a better quality of life."
D'Annunzio added that from the commune, another environmental objective was drawn up, the creation of an interactive classroom, which will be an interpretation center on waste management and environmental issues; the purpose is that all schools can visit the plant in order to educate and raise awareness among students.
The Secretariat recognized the work carried out by GEAP through the International Program "Children of Mother Earth," because it provides solutions and promotes citizen participation in actions for a sustainable development and future.
Details
Date:
access_time Friday, June 24, 2016