Representatives of indigenous people attend the 1st Regional Encounter of the Children of Mother Earth
Global Embassy of Activists for Peace
Representatives of indigenous people attend the 1st Regional Encounter of the Children of Mother Earth
Within the celebration of the Human Rights Day, the Global Embassy of Activists for Peace (GEAP) in Panama, held the 1st Regional Encounter of the Children of Mother Earth.
The event counted with the participation of Arelis Midi in representation of the Vice Minister of Indigenous Affairs of the Republic of Panama, Irene Gallegos; and Deidamia Lopez, coordinator of the Organization of the Indigenous Women United for the Biodiversity of Panama.
Anel Valdespino, president of the Association of Indigenous Students of the Universidad Especializada de las Americas (Udelas), and the national coordinator of the GEAP in Panama, Ariel Cerrud, were present during the event.
Promote ancestral knowledge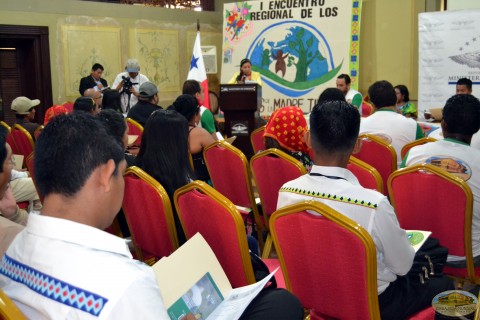 The halls of the Assembly and of the Nationality of the Ministry of the Government of the Republic of Panama, where the places where the representatives of the indigenous people of Guan, Embera and Ngäbese gathered to promote and study their ancestral knowledge.
Eleven subjects were developed in four work tables, which analyzed the cosmogenic vision of the indigenous people; at the same time, proposals were presented regarding the conservation and restoration of Mother Earth.
With the sponsor of the vice minister of Indigenous Affairs, along with his work group and with the collaboration of the Organization of Indigenous Women United for the Biodiversity of Panama, contributions in various subjects were received, such as:
The vision of the Indigenous women (proposal of indigenous youth for the strengthening of their identity).
Proposal of the Indigenous peoples for the Inter-American Charter: among others.
Tables of dialogue and reflection
Work tables were made up of representatives from Udelas; the Office of Indigenous Peoples of the University of Panama; the Congress of the Guna Yala Culture; the Foundation for the Promotion of Indigenous Knowledge; and the Mesoamerican Indigenous Council.
Also, members of the Four Worlds Foundation and the National Coordinator of the Indigenous People of Panama (Conapip), which was represented by Mr. Demostenes Gonzales, who, at the same time, is the representative of the Central American Indigenous Council in Panama.
The dialogue developed in a friendly environment. At the end, a representative from each table presented the proposals in a plenary.
Human Rights Day
In 1948, the General Assembly of the United Nations approved and established the Universal Declaration of Human Rights. In 1950, they adopted resolution 423 (V), inviting all the interested States and organizations to observe December 10th, as the Human Rights Day.
Details
Date:
access_time Saturday, December 10, 2016