Promotion of environmental values in the Dominican Republic
Global Embassy of Activists for Peace
Promotion of environmental values in the Dominican Republic
Education and Awareness lectures for the celebration of World Environment Day
In the framework of the celebration of World Environment Day (June 5), the Global Embassy of Activists for Peace (GEAP) in the Dominican Republic, promoted environmental values in educational institutions during June 6th and 7th, 2016.
Through awareness and environmental education lectures, children and youths received training on the 5R's (Recycle, Reduce, Reuse, Refuse and Re-educate), to promote a consciousness in reduction and environmental protection; contributing to the creation of a culture of sustainable green citizenship.
The "Matias Ramon Mella" educational center, located in north Santo Domingo, was one of the venues where the environmental lectures were held. The Activists for Peace promoted awareness on the care and respect for Mother Earth, mainly its recognition as a living being.
The students learned of different ways to recycle and repurpose discarded objects, among other simple actions to work for the preservation of Mother Earth, such as planting trees.
These educational activities constitute a line of action of the International Program "Children of Mother Earth," developed by the GEAP in Latin America, United States and Spain, in order to promote the care, protection and restoration of Mother Earth.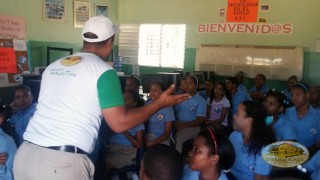 Details
Date:
access_time Monday, June 6, 2016