Papantla citizens celebrate World Mother Earth Day
Global Embassy of Activists for Peace
Papantla citizens celebrate World Mother Earth Day
The Global Embassy of Activists for Peace (GEAP) in Veracruz, Mexico, installed the Mother Earth Peace Fair with the purpose of raising awareness among the community about the importance of caring for and protecting the environment.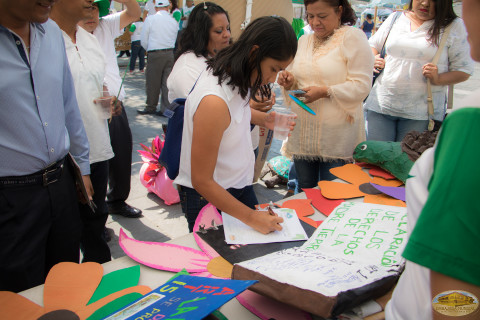 Supporting the proposal of the GEAP on the recognition of Mother Earth as a living being
The fair was held on April 27 to mark the World Day of Mother Earth. The bilingual elementary school Serafín Olarte and the National College of Technical Professional Education (CONALEP) participated in the educational community activity.
Likewise, municipal, environmental authorities, representatives of human rights, media, activists for peace and the general public attended, for a total of 450 Mexicans, who supported the GEAP proposal on the recognition of Mother Earth as a living being. (See: List of Papantla personalities who attended the celebration of World Day of Mother Earth)
Papantla party
Rosa Cruz, director of Social Development and Educational Promotion, was in charge of the welcoming act, who thanked the mayor for the distinction of holding the festival in the city of Papantla.
For her part, Victoria Olmedo, federal deputy substitute in her exhibition "We are Children of Mother Earth" highlighted:
"The earth was consecrated by the gods to give birth to the living being; however, the human being has desecrated Mother Earth, as a result we live what several scientists call a civilizing crisis."
Support for the Proclamation
Reading of the Proclamation
At the end of the exhibitions, Rosa Cruz, Director of Social Development and Educational Promotion read the Proclamation of the Constitution of the Rights of Mother Earth along with the representatives of the GEAP.
Next, attendees gave a tour of the 4 environmental modules, where the volunteers gave a talk on the restoration and protection of Mother Earth through citizen actions.
The fair concluded with artistic expressions by folk groups in the city. The attendees supported the environmental proclamation with their signature.
Details
Date:
access_time Thursday, April 27, 2017