Panama celebrated with the Fair for the Peace of Mother Earth
Global Embassy of Activists for Peace
Panama celebrated with the Fair for the Peace of Mother Earth
World Environmental Education Day
Panama celebrated with the Fair for the Peace of Mother Earth
More than 150 people were sensitized by the exposure of each module, which gave them information about the care of their natural resources.
With a radiant sun and in the middle of the vegetation that beautifies the Heliodoro Patiño Park of Panama, the Global Embassy of Activists for Peace (GEAP) on January 26, 2016, under the International Program "Children of Mother Earth", celebrated the World Day of Environmental Education, where residents of the Radial city in Juan Díaz participated in the Fair for the Peace of Mother Earth.
With the installation of 6 modules that promoted the importance of recognizing Mother Earth as a living being, made with recycled materials and the creativity of volunteers, approximately 150 people, including children, youth, adults and the elderly, became aware of the consequences of not taking care of the planet. For example, the shortage of drinking water, a current situation in this country
For their part, young people belonging to the Environmental Movement Guardians for the Peace of Mother Earth, gave a speech to the attendees in relation to the Brigades that make up their areas of action; this encouraged the Panamanians to take care of the Harpy Eagle and the Golden Frog, endangered animals. They also took into consideration that Panama is the country with the most variety of corals in the eastern tropical Pacific, and its waters must be taken care of.
The sixth module gave the opportunity to show the letters and drawings that were made days before the event by the patients of the Pediatric Specialties Hospital Omar Torrijos, of the Social Security Fund. Also, the children of the community and surrounding localities made their letters, where they expressed their love and gratitude to Mother Earth.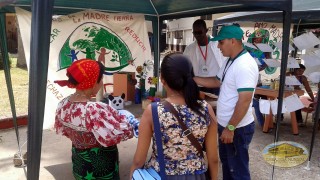 Details
Date:
access_time Tuesday, January 26, 2016