In Mexico: Tabasco students attend the "Environmental Culture" event
Global Embassy of Activists for Peace
In Mexico: Tabasco students attend the "Environmental Culture" event
The Vasconcelos de Tabasco University (UVT) and the Global Embassy of Activists for Peace (GEAP) in Mexico held the Environmental Culture event, with the purpose of raising awareness among the student community about the need to protect nature and conserve biodiversity .
This event was held under the International Program Children of Mother Earth, through which important actions are carried out in line with international policies and treaties to promote the recognition of Mother Earth as a living being.
The activity, which took place in the framework of the celebration of World Mother Earth Day, had the support of the students of Environmental Engineering of the UVT and volunteers of the GEAP, in addition, around 50 people.
Educate and plant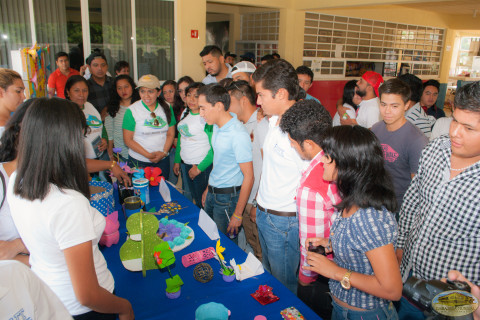 Exhibition of objects made with recycled material.
As part of the programming, the university students planted six trees, to which they placed their own names. This symbolic part of the planting was directed by Bartola Jiménez, professor of Environmental Engineering, who mentioned:
"We as environmental engineers are committed to taking care of the environment and raising awareness among people and the community where we live on the importance of our environment."
The 5Rs
Finally, the exhibition of several projects made with recyclable material by the students was inaugurated, which through this action implemented the 5Rs (Recycle, Reuse, Reduce, Reject and Reeducate).
The students visited the educational module presented by the Guardians of Mother Earth, with the aim of contributing to the formation of human beings with environmental and sustainable responsibility.
Details
Date:
access_time Thursday, April 27, 2017