Great Annual San Marcos River Clean-Up, Texas, USA
Global Embassy of Activists for Peace
Great Annual San Marcos River Clean-Up, Texas, USA
To accompany various community and environmental organizations in San Marcos, the Guardians for the Peace of Mother Earth, environmental movement of the Global Embassy of Activists for Peace were invited to participate during the Great Annual San Marcos River Clean-up, in Texas, United States, this past March 4th, 2017.
For 32 years, the first Saturday of March, dozens of volunteers offer to help during the massive cleanup along the San Marcos River, its tributaries and green areas. Diving and canoe clubs from all of Texas, civic groups, student organizations and the general public participated in this immense cleanup, which started from the headwaters to the  Guadalupe crossing, a 90 mile path.  
One of the most protected rivers in Texas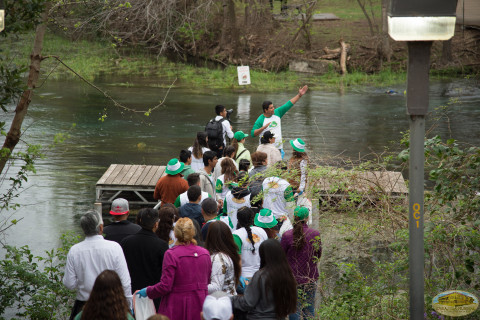 The San Marcos River of Texas flows from artesian springs, it emerges from Edwards's aquifer and forms part of the tributaries of Spring Lake. It flows southward to unite with White River and then to Guadalupe River, 75 miles downriver. 
Since the river crosses the city of San Marcos, its banks have become a popular recreational space, where visitors can enjoy kayaking, swimming, diving, and fishing in the clear waters of the San Marcos River. This river is considered one of the most biologically diverse ecosystems, and thus, it is unique and delicate in the United States, with numerous threatened and endangered species, such as the Texas Blind Salamander and Texas Wild Rice. These, along with the Gambusia fish and the San Marcos Salamander, require clear, clean water that continuously flows with a steady temperature. For that reason, the Texas community takes great care to ensure that it stays clean, clear and flowing.  
The Global Embassy of Activists for Peace participated in the Great Annual Cleanup, not only with the presence of volunteers from the International Movement Guardians for the Peace of Mother Earth, to keep this natural space clean, but they offered food and beverages to all the participants, and prepared a special closing activity for this annual cleanup.
Recognition of the San Marcos community, Texas
Dr. William Soto Santiago and representatives from Texas State University – San Marcos, were present during the closing act. Dr. Soto thanked everyone for the commitment of caring for our Mother Earth. 
"I congratulate the organizers of this event. You are a resolute example to the United States and the world, because these actions embed a consciousness of responsibility for the environment in the community. And we, as the Global Embassy of Activists for Peace want the world to know your work of perseverance and love you have towards Mother Earth."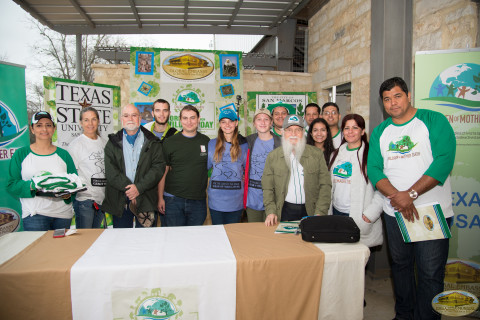 Mrs. Melani Howard spoke on behalf of the Texas State University, thanking the participants during the closing, from Habitat Conservation Plan Manager – COSM/Tx State University, Professor Thomas E. "Randy" Simpson Ph.D., Director of Wildlife Biology Program, and students from Texas University – San Marcos: David Klingele; Maya Ressler and Dillon Harriman.
Details
Date:
access_time Saturday, March 4, 2017