THE GOVERNMENT OF GUATEMALA WELCOMES CUMIPAZ 2018
Global Embassy of Activists for Peace
See Gallery
The Government of Guatemala offered a welcome cocktail to the 4th edition of the Peace Integration Summit, CUMIPAZ 2018, which will be held from October 1st to 6th with the participation of world leaders, parliamentary authorities, academic, judicial, political and civil society.
The event took place in the Patio de la Paz of The National Palace of Culture , emblematic scene where the peace agreements were signed in 1996, after an armed conflict of 30 years.
Iván Díaz López, governor of Guatemala, was in charge of directing the opening remarks. In his participation he highlighted the work that activists do as peace builders, the importance of promoting these actions with Guatemalan citizens and the union of nations in the midst of diversity to achieve peace with justice.
"To know that so much culture, so much beauty, so much brotherhood that we peoples have in the concert of nations, focuses us to seek peace through justice, because without justice how we can find peace, " said Díaz.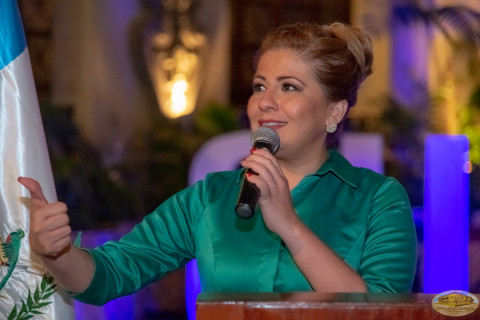 Gabriela Lara, general director of the Global Embassy of Activists for Peace (GEAP) said that the objective of the Summit is to generate spaces for conversation, proposals and the construction of a culture of peace.
Talking about justice, economic development, sustainability, respecting the rights of human beings and the rights of Mother Earth, is the basis of the foundation to seek peace and happiness in each of us human beings," said Lara.
The secretary of peace of the presidency of the Republic of Guatemala, Lourdes Xitumul, said that the legislative body she represents supports this global initiative.
"For our country and in particular for the Secretariat of Peace of the Republic of Guatemala, it is an honor and joy to receive you in this important Integration for Peace Summit, CUMIPAZ."
Cultural samples. The Ballet of Folkloric Projection of the municipality of Sanraymundo, presented the most representative dances of the country in the company of the group Marimba Juvenil de Concierto.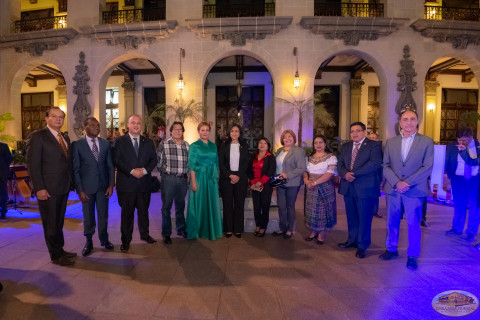 During the event the Symphonic Orchestra of the Global Embassy of Activists for Peace, the OSEMAP participated with the interpretation of traditional musical pieces of America, among them: Moliendo Café(Venezuela), Luna de Xelaju (Guatemala), New York , New York (United States), Hava Naguila (Israel).
The cultural presentation concluded with the participation of the Andean music group Ñambuy, who played Munasquechay , a popular Bolivian song composed by Elmer and Gonzalo Hermosa.
The 2018 CUMIPAZ, will begin this Monday, October 1, with the Science Session for the preservation of the life of Mother Earth and of the human being, in the Hall, Flags of the National Palace of Culture, from 8:00 a.m.
Details
Proyecto:
CUMIPAZ Peace Integration Summit