The GEAP presented the Project "Children of Mother Earth"
Global Embassy of Activists for Peace
The GEAP presented the Project "Children of Mother Earth"
More than 600 students recognized that the human being is responsible for the deterioration of the planet.
Mother Earth is worthy of respect
On September 1, 2015, at the Eugenio Garza Lagüera Technical Institute of Monterrey, Nuevo León, México, the Global Embassy of Activists for Peace (GEAP) presented the Project "Children of Mother Earth" where more than 600 students participated in the lectures which reported that the planet is a living being, and as such, it is worthy of being respected and protected, and everyone should know its alienable rights and keep its integrity. 
The general director of the campus, Maria Veronica Martinez Sanchez, director of the Social Sciences field, Alfredo Peña Marin, director of reality cinema, MA Diana Gonzalez, and special guest, Andres Anico Elizondo, leader of the Kikapu Tribe, were the personalities who participated in this presentation and expressed that the project is an initiative to recognize the importance of Mother Earth for humans.
The students of the institution participated in a Q & A session, showing great interest on the required care for Mother Earth and how humans have contributed towards its deterioration; they also highlighted that indigenous communities protect the planet as though it were a treasure, being an example for all mankind. 
The Social Sciences director of the Campus, Maria Martinez, asked the attendees to take a moment of silence and meditate on all the information they just acquired. To conclude the event, a student repeated the following three words: RESPECT, IQUALITY, AND IDENTITY, values that should be present in every individual that lives in this world.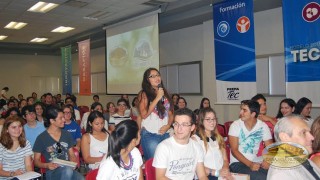 Details
Date:
access_time Tuesday, September 1, 2015