Environmental awareness: 1350 kilos of garbage are collected in beaches of Lima
Global Embassy of Activists for Peace
Environmental awareness: 1350 kilos of garbage are collected in beaches of Lima
The Municipality of San Miguel, in Lima, Peru, invited the volunteers of the Global Embassy of Activists for Peace (GEAP) to participate in a waste collection on the beach circuit of the region and that in turn served to create an environmental awareness to the participating institutions.
The activity began in the Chepen Park, where a talk on recycling was given, and then 60 volunteers went to the beaches where 1,350 kilos of garbage were collected (plastics, wood, metals, among others) that were taken to the collection trucks.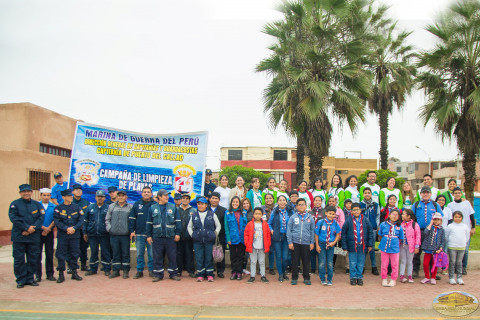 There was the participation of Erika Chacón, representative of the Management of Environmental Management and the support of the Navy of Peru, Association of Recyclers of San Miguel, Scouts of San Miguel and the General Directorate of Captaincies and Coastguards (DICAPI).
The GEAP participated as part of the International Program Children of Mother Earth, which aims to provide solutions, promote and carry out forceful actions to ensure the continuity of the lives of human beings and other living beings in harmony with Mother Earth.
Collaboration agreement. The GEAP maintains an agreement with the Management of Environmental Management of San Miguel to work together in events that the district conducts in favor of the environment, one of them is the beach cleaning that takes place every two or three months.
Details
Date:
access_time Saturday, July 14, 2018