Day 5: Supreme Court of Guatemala opens a space for CUMIPAZ 2018
Global Embassy of Activists for Peace
Judges of the high courts, ministers and magistrates from different countries will contribute to universal justice for peace
The Justice and Democracy Session of the Peace Integration Summit, CUMIPAZ 2018, will be held this October 5 from 9:00 a.m. (local time) in the Supreme Court of Justice of the Republic of Guatemala, host country of the Summit in this 4th edition.
The Judicial Body has given institutional support for the development of the sessions, and on the closing day of CUMIPAZ 2018, the Palace of Justice receives judges from the high courts, magistrates and ministers of different countries to carry out this segment of the Summit, where political authorities, academics, human rights defenders and peace activists will also be present.
The judicial session seeks to strengthen justice as a value generator of peace, through the presentation of proposals and the promotion of actions to consolidate the recognition and respect of human rights and contribute to the establishment of permanent security for the human family.
Part of the issues to be discussed: the scope and challenges of universal justice for peace, the role of the International Criminal Court (ICC) in the delivery of global justice, environmental justice, among others.
A document will be drawn up with the proposals and contributions that will be included in the Official Declaration of the Summit, which will be read at the end of the Justice and Democracy Session.
Participants and themes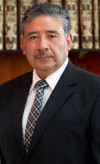 The president of the Supreme Court of Justice of the Republic of Guatemala, José Antonio Pineda, will participate in the opening ceremony of the session.
Antoine Mindua, judge of the ICC, will speak about The International Criminal Court and the challenges of Global Justice as foundations to achieve peace.
The magistrate of the Supreme Court of Spain, Andrés Martínez Arrieta, will address the scope of universal justice, its achievements, challenges and tasks.
Luz del Carmen Ibáñez, judge of the ICC, will speak about the International Criminal Court, a long way from Nuremberg to the present, reflections and messages.
Sylvain Ore, president of the African Court of Human and Peoples' Rights (Tanzania, Africa), will speak on the right of access to the administration of justice, and its contribution to the prevention of the violation of human rights.
Presidents and magistrates of the High Courts of Latin America will discuss Judges responsible for the delivery of justice and the generation of a culture of peace, in a panel made up of:
María Aguirre, president of the National Court of Justice (Ecuador)
Carlos Midence, magistrate of the Central American Court of Justice (Honduras)
Windelle Thelot, vice president of the Superior Council of Justice (Haiti), judge of the Court of Cassation.
Carmen Escoto Fernández, vice president of the Supreme Court of Justice (Costa Rica).
Iris Barrios, president of the First Court of Criminal Sentence, Drug Trafficking and Crimes against the Highest Risk Environment "A" (Guatemala)
The issue of environmental justice will be addressed by another panel made up of ambassadors, judges and environmental promoters:
Rafael Fernández, member of the General Council of the Judicial Power, magistrate of the Supreme Court and member of the Environmental Justice Commission of the Ibero-American Summit (Spain).
Luis Tolosa, magistrate of the Supreme Court of Justice (Colombia)
Duberlí Rodríguez, supreme judge of the Judicial Power (Peru) and goodwill ambassador of the OAS for Environmental Justice.
Daniel Guevara, Minister President of the First Environmental Court (Chile)
Other topics will be treated by:
Esteban Peralta, head of the Advocacy Support Section / International Criminal Court. (Spain)
Ranulfo Rojas, magistrate Vocal X of the Supreme Court of Justice (Guatemala), former president of the Judicial Branch.
Blas de Jesús Imbroda, president of the International Criminal Lawyers Association. (Spain)
Details
Proyecto:
CUMIPAZ Peace Integration Summit