Building peace with simple acts of love
Global Embassy of Activists for Peace
See Gallery
Threads of peace are being sowed 100 km from Guatemala City, between the mountains
In June 2018, Guatemala suffered an eruption from the Volcán de Fuego. The tragedy was mourned by hundreds of families living in San Miguel Los Lotes, department of Escuintla, a devastated community in which children and families were left homeless and the land uninhabitable.
"They did not have time to leave because the lava did not come where the road was, it came back through here." Víctor Larios, a resident of San Miguel Los Lotes, said that he was saved along with his family because on Sunday, June 3, he had left town.
Ceylon villagers united by CUMIPAZ 2018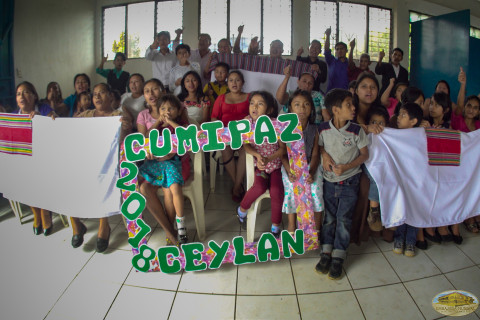 A few kilometers from San Miguel Los Lotes, between the mountains and the rivers, is Ceylon, municipality of Siquinalá, a cozy village, of simple and hard-working people. There are more than 20 volunteers of the Global Embassy of Activists for Peace (GEAP), who together with their community, were transferred for a few days in prevention due to the volcanic threat and the ash that flooded homes and streets.
Despite the difficulties, volunteers maintained the spirit and the desire to participate within their possibilities in the organization of the Peace Integration Summit (CUMIPAZ). This year, with the development of 60 tablecloths that will be used throughout the Summit.
Martha Castro is a primary school teacher who oversaw the cutting and making of the tablecloths, working in her free time, after and before her work as a school director in the village.
"I would get up at 3, 4 in the morning to prepare five tablecloths, then I would go to work and at night I would sew again". Martha indicated
The 60 tablecloths were already moved to Guatemala City, the venue for the fourth edition of CUMIPAZ, which will take place from October 1 to 6, 2018, and which has been organized with the support of thousands of volunteers around the world. They have given their time and effort so that the highest-level event organized by the GEAP during the year is carried out successfully.
Details
Proyecto:
CUMIPAZ Peace Integration Summit