Around 1,600 Salvadoran students and teachers showed their interest in the future of Mother Earth
Global Embassy of Activists for Peace
Around 1,600 Salvadoran students and teachers showed their interest in the future of Mother Earth
The GEAP worked with the Ministry of Education for the development of a parade and Environmental Fair for the Peace of Mother Earth.
As a sign of interest in the future of Mother Earth, approximately 1,600 students and teachers of the Republic of El Salvador participated in activities organized by the Global Embassy of Activists for Peace (GEAP), to celebrate World Environment Day (June 5).
The Ministry of Education and various educational institutions were involved in the events promoted by the GEAP under the International Program "Children of Mother Earth," which works for the care, protection and restoration of Mother Earth. (See: Institutional Video "Children of Mother Earth")
The activities were carried out in order to strengthen the commitment of institutions and citizens in preserving the environment, especially in sowing environmental awareness in children and youth; promoting actions for the care and maintenance of their surroundings based on community realities.
.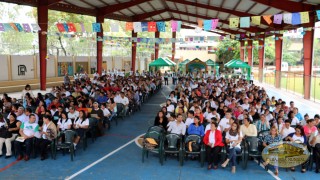 Fair and Parade for the Peace of Mother Earth
Among the events, they conducted an environmental parade in the municipality of San Martin, San Salvador. The great display was carried out by more than 900 students, teachers and representatives of different institutions and public schools in the area, with the assistance of Civil Protection.
Furthermore, the Environmental Fair for the Peace of Mother Earth was held, where around 700 people, including more than 300 school principals and teachers participated.
The organization of the Fair took place at "Joseph" academy, located in the city of San Salvador. This activity is developed by the GEAP with the aim to promote environmental education for the promotion of a global culture for a Sustainable Development and a green citizenship.
The attendees toured the Fair, arranged in contextualized modules on topics such as: The Recognition of Mother Earth as a living being, the value of the 5 R's of recycling for the care and restoration of natural resources, among others.
The topics were presented by the Guardians for the Peace of Mother Earth, which is an environmental movement of the GEAP bringing volunteers together in every country where it has representation willing to work for the future of Mother Earth.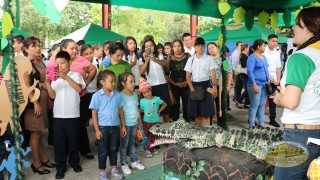 In support of the National Environmental Education Policy
These fairs have been presented in El Salvador in order to provide new insights, approaches and alternatives to change attitudes, promoting the active participation of citizens and the government, in solving environmental problems and recognizing Mother Earth as a living being. (See: Education and Awareness Marathon in San Salvador, through the International Fair for the Peace of Mother Earth)
The National Environmental Education Policy (NAEP), developed by the Ministry of Education and the Ministry of Environment and Natural Resources, establishes that environmental education should foster in people the promotion of values and a more harmonious relationship between human beings and the environment. It also indicates that this formation should be seen as a permanent process. (See document: http://goo.gl/sj99kc)
Details
Date:
access_time Thursday, June 9, 2016